Here's What the New CDC Mask Guidelines Actually Mean
It's time to dust off your mask.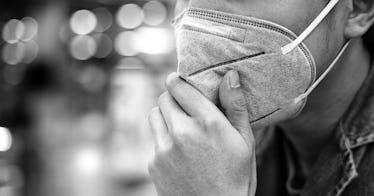 After previously announcing that vaccinated people do not have to wear masks in most settings, the Centers for Disease Control and Prevention has officially reversed their decision.
Now, they're recommending that all people — both those who are vaccinated and those who are not — wear a mask when indoors in public, in some scenarios. This is all because the Delta variant is causing cases to rise around the country, mainly in areas where many people are unvaccinated against COVID-19. But research suggests that vaccinated people who are infected with Delta can transmit the virus, hence the new caution — and the third change in guidance on indoor masking in three months.
What Are the New CDC Mask Guidelines?
The new CDC guidance for vaccinated people says that if all three of the following conditions are met, you should wear a mask:
You're indoors
You're in public
You're in an area of high or substantial transmission rates
To check whether you live in a county that has high or substantial transmission, visit this map from the CDC. Nearly half of counties in the U.S. are currently experiencing high rates of COVID-19 transmission, and 17 percent of counties have substantial transmission. More than a third of counties have moderate or low transmission rates.
The following categories of people should be particularly cautious and should considering wearing a mask, regardless of the transmissions levels in their area:
If you are immunocompromised
If you are older
If you have a medical condition that puts you at high risk of severe COVID
If someone in your household is unvaccinated or immunocompromised or otherwise at risk of severe COVID
Masks are still required on public transportation, and they are still not necessary outdoors in most scenarios.
If you're vaccinated, you can still engage in the activities you enjoyed before the pandemic hit, as was the case before the most recent CDC announcement. But if the above criteria apply, you'll need to have fun while wearing a mask.
New COVID Testing Guidelines for Vaccinated People
Previously, the CDC had said that if you're vaccinated, you don't need to get tested if you were exposed to COVID-19 unless you develop symptoms. However, the agency now recommends that if you're vaccinated and exposed to COVID-19, you get tested after 3-5 days. You should wear a mask in public for 14 days after exposure, or until your test comes back negative. If you are vaccinated and develop symptoms, get tested and stay home.
Why Is the CDC Recommending Masks Again?
Blame it all on Delta. The CDC is concerned about rising case numbers, which can be traced back to this variant. And although breakthrough infections among vaccinated people are uncommon, they become more common as overall case rates go up, and research suggests that vaccinated people who are infected with Delta are able to transmit the virus.
"Infections happen in only a small proportion of people who are fully vaccinated, even with the Delta variant. When these infections occur among vaccinated people, they tend to be mild," according to the CDC. However, "If you are fully vaccinated and become infected with the Delta variant, you can spread the virus to others."
What Do the CDC Guidelines Mean for Kids?
The CDC recommends that all students and staff wear masks in schools, regardless of whether they're vaccinated. Whether schools will require masks comes down to individual localities and may still be up in the air.
"We've seen throughout the summer in summer schools, places that have not imposed those prevention strategies, are having outbreaks and have had to close," CDC Director Rochelle Walensky said on SiriusXM's Doctor Radio Reports. "So what we're recommending now is that everyone in K through 12 schools wear a mask indoors, including all teachers, staff, students, and visitors, regardless of vaccination status."
Are Mask Mandates Coming Back?
It's not clear as of yet which states and local governments will start making masks mandatory in public again. Some government officials have already announced that they are planning on putting a mask mandate into effect, such as Kansas City Mayor Quinton Lucas. However, the governors of Florida, South Dakota, Arizona, and Iowa have all said that they will not be mandating masks.
What the Experts Are Saying About the New CDC Mask Guidance
"Some vaccinated people infected with the Delta variant after vaccination may be contagious and spread the virus to others," Walensky said at a briefing with reporters. On Doctor Radio Reports, she added, "When we look at the amount of virus stratified by people who were vaccinated and people who are unvaccinated, that the vaccinated people who are the breakthroughs have the same amount of virus as the unvaccinated people. And that is very much leading us to believe that it is probably the case that those vaccinated breakthrough infections, rare as they might be, have the potential to infect others."
"Leaning heavily on masking and distancing is what we did when we didn't have vaccinations," Aaron Carroll, the chief health officer of Indiana University, wrote in The New York Times. "Today, such recommendations are less likely to succeed because they are more likely to be followed by those already primed to listen — the vaccinated — and to be fought and ignored by those who aren't."
Ashish Jha, Dean of the Brown University School of Public Health, wrote on Twitter, "My take? A modest change with likely modest effects. A change that is responding to the realities on the ground… Changing guidance in response to new evidence isn't flip-flopping… It's what we should always do."