Olaf From 'Frozen' Will Read Books To Your Kids On Twitter
Josh Gad is here to help.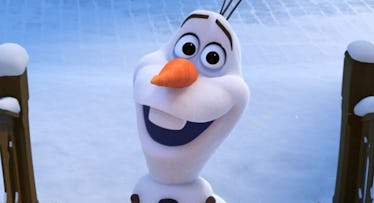 Credit: Disney
We know a lot of kids are bored right now. Thankfully, many folks are filling in the role of teacher and providing entertainment for our kids, virtually, of course, because social distancing is essential. And now, Josh Gad, the voice behind the Frozen franchise character Olaf, is doing his part to keep our kids engaged by reading books to our kids. Here's how.
Gad has one of the most recognizable voices to our kids, and he's taken to Twitter every night to read a book to our kids. He's been reading to his fans each night since March 13th, and he's hoping to provide a break from our shut-in routines.
"Since we're all stuck at home right now, I figured we would have a little fun together," Gad said. "So, I'm going to see how this goes, but I decided I'm gonna read to you and your children—or just you, depending on what you prefer. I'm not gonna pass judgment right now since the world is a little bit of a hot mess."
His Twitter book series started with the book "Olivia Goes to Venice," written by Ian Falconer, and he read with unique character voices for each person in the story. The dad of two then tackled "The Day the Crayons Quit" by Drew Daywalt, followed by "The Giving Tree," written by Shel Silverstein.
"I'll try to provide at least 10 minutes of daycare to you and your families a night while we're going through this unprecedented global event," Gad explains. "I love you all. I'm hoping you're all healthy and safe, wherever you are, and hopefully, I will see you all very soon. Take care."