John Legend's Version Of 'Baby Shark' With Son Miles May Be The Only Tolerable One
Miles really improved on the song.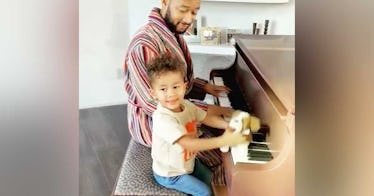 John Legend and his son Miles might have just revolutionized one of the most over-played kids pop songs ever.
If we were to choose a song that defines our generation's parenting, it would, unfortunately, have to be Pinkfong's 'Baby Shark'. Our kids, for better or for worse, quickly became obsessed with the song, and even Cardi B weighed in on the viral popularity of the kid's song hit by modeling to it in a catwalk Instagram video, cementing the song in our brains and minds forever if it weren't already rubber-stamped there.
We relied on it to help put our kids down for a nap, encourage them to pick up their toys or change their grumpy mood by playing or singing the catchy tune. There have been so many different versions of the song, all equally annoying. But John Legend may change that for us with a version of the song is actually… good?
Chrissy Teigen shared a video on Instagram over the weekend of her husband John and their 2-year-old son, Miles hanging out at the piano. Miles looks to the camera and shouts "Baby Shark" just as John starts playing the famous tune on the piano. Miles joins in with his dad playing the piano keys with a cute stuffed animal he was holding in his hands.
Miles enthusiastically plays the piano keys, smashing them and creating an-off key version mixed in with John's perfectly-on-key notes. Sure, in theory, the sound should be annoying. No one enjoys the sound of random keys being smashed on the piano. But this is different. Miles' notes drown out John's. And what we get is a version of Baby Shark that might be the only tolerable rendition out there.
This isn't the first time we've heard the earworm song in the Legend/Teigen household. When their daughter Luna was two years old, John shared a video of the two sharing a Baby Shark duet. While out to lunch with Luna in 2019, John asked, "Luna, do you know what's on my shirt?" while wearing a shirt with shark patterns.
"Yeah, Daddy Shark," she answered, and the two busted into singing Baby Shark.
The uber-viral song about a family of sharks has been around for a long time, with a contentious history of who owns the rights to the song. But its popularity skyrocketed in August 2018 thanks to the Baby Shark Challenge going viral. Since then, the song has become a massive hit, with over 7.8 billion plays of the cartoon video that accompanies the song on YouTube.
The song is annoying for adults. But it's a clear hit for toddlers, and no parent is immune to it being stuck in our head for days.
This article was originally published on