Women Lost 140K Jobs In December. Men Somehow Gained 16K
Sexism is real. COVID isn't helping.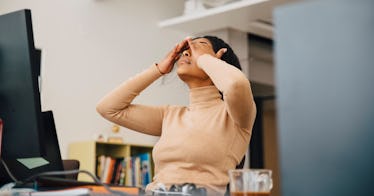 December's jobs report just came in — and it's brutal for women. A disappointing jobs report, just released by the same department, found that 140,000 jobs were cut in December. Every single one of those jobs were held by women.
Since the pandemic took a sledgehammer to the economy in March, monthly jobs reports have only looked grim and grimmer. This is especially true for working women, who had experienced a brutal setback in terms of employment during the pandemic. In October, the Department of Labor Statistics revealed that around 1,000,000 women had left the workforce — almost eight times the amount of men who had done the same. In one month alone, while only 200,000 men left the workforce, nearly 900,000 women did.
That disparity — fueled by existing wage inequality, inequality in the home, and continued child care and school shutdowns due to COVID-19 which is wrecking the United States as more people get sick and more people die — was worsened in December, with the 140,000 job losses by women. But the real facts are even worse than what the statistics say. Digging a little deeper, it's actually clear that women lost more work than 140,000 jobs — 156,000 job losses were actually recorded in December — but that 16,000 jobs were gained by men.
All in all, 2020 all but erased slow, painstaking decades of progress in the workplace for women in a series of months. In fact, according to CNN, the beginning of 2020 had marked an important milestone for working women — for the first time in a decade, and for the second time ever, women held more jobs than men in the economy.
Now, looking back on 2020 as a whole, the picture couldn't be more different: women lost 5.4 million jobs while men only lost 4.4 million, and Black and Latina women have been hit the hardest.
There are a number of reasons women most disproportionately lost their jobs, and in particular, women of color. First, the aforementioned wage gap makes it all but certain that if a woman works in a two-income household with a man, her husband or partner makes more than her — and in a situation where there's a prolonged lack of child care or schooling, the person who makes less is more likely to quit their jobs and take on full-time caregiving. It's a rational, economic choice, one that is beset by decades of income inequality — and one that will set back income inequality even further.
Additionally, a lack of paid sick leave across industries makes it hard for parents or regular working women who are more likely caregivers (and this is a role that is overwhelmingly held by women over their male counterparts) to take time off to care for their children, parents, siblings, whatever — meaning they might leave their jobs behind if their loved ones become ill from, oh, I don't know, a deadly pandemic.
Women, and women of color, are most likely to hold jobs that don't have paid sick leave or offer work from home capabilities. Hospitality, retail, and education are all female-dominated and have been hit with hard job losses. Schools and daycares, for example, are the places that employed a lot of the women who have lost their jobs. Restaurants and bars, which were industries that cut the most jobs in December, are also mostly part-time jobs — and women hold more part-time jobs than men.
As is always true, Latinas and Black women are suffering higher unemployment rates than white women — 9.1 percent to 8.4 percent to 5.7 percent, respectively, proving that not only is job inequality a gender issue, but it's one that cuts across the lines of ethnicity and race. Hopefully, 2021 will be a better year for working women — but it's hard to see that that could be true, as paid leave programs are still inaccessible, entire industries remain shuttered, and COVID rages on.
This article was originally published on