Joanne Rogers Says Trump Has No Place in the Neighborhood of Fred Rogers
In an interview with 'The Daily Beast,' Mister Rogers' widow did not hold back.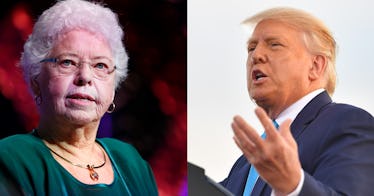 GETTY
Mister Rogers' would have avoided talking about politics, but his widow feels very differently about that rule.
On Thursday night, Trump held a rally in Latrobe, Pennsylvania. Whether or not he chose to do the rally on purpose in the hometown of Fred Rogers — or even remembers who the guy is — is unclear, but Fred Rogers' widow, Joanne, is pissed about it, she revealed in an interview with The Daily Beast. While she admitted that Fred Rogers likely would not have commented on Trump or his presidency while he was alive, he is not alive, having passed away in 2003, and Joanne doesn't host a television's show for children, so she was pleased to say what she felt about the President. And what is that?
"I think he's just a horrible person." When asked how she'd feel if he were re-elected, she said, "I will probably go into mourning. I can't even imagine. I would feel so badly." As for the reasons why Joanne feels like the President is a horrible person, she simply said that he is a man who she believes doesn't tell the truth. "Mr. Trump seldom tells the truth. If he does, it's just a fluke… I can't believe anything he says, not even the simplest thing." She even went on to suggest that Trump is pathologically mentally ill, and, more than simply trashing Trump, has put her vocal support behind former Vice President Joe Biden, who is campaigning against President Trump.
For Joanne, who was supporting Biden well before the DNC, something that sealed her conviction for the candidate was when 13-year-old Brayden Harrington, who has a stutter and bonded with the VP over it at an event several months ago, gave a speech. It reminded her, per the interview, of the famous episode of Mister Rogers' Neighborhood that featured Jeff Erlanger, the 10-year-old boy who lived in a wheelchair.
This article was originally published on