Here's What JLo's Kids Might REALLY Think of Ben Affleck
"Bennifer" is back, but it's different this time.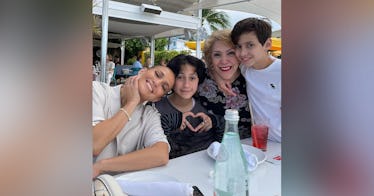 Credit: jlo @ instagram
Reading through the headlines, it feels like we've taken a time travel device back to 2004 when Jennifer Lopez and Ben Affleck were getting all the attention. Nicknamed "Bennifer," people were obsessed with these two, wanting to know all the details of their relationship. When the two eventually called off their engagement and both moved on with other people, they seemed a thing of the past. Until now – 17 years later, the two rekindled their romance. And it looks sweet and similar, but there's one big difference: both have kids now, and those kids are old enough to have an opinion. Here's what JLo's kids might really think of Ben after being spotted out at dinner together.
Jennifer Lopez and Ben Affleck have undoubtedly rekindled their romance, seemingly picking up right where they left off in the 2000s. Recently, they've been spotted hanging out, cuddling and kissing, and since, Ben has met JLo's kids, 13-year-old twins Max and Emme, whom she shares with ex-husband Mark Anthony.
According to People, JLo's kids have been doing OK since their mom's breakup. "They are slowly getting to know Ben," the source that spoke to the publication said. "Everything seems to be running smoothly. It's very obvious that Jennifer is serious about Ben. She hasn't looked this happy for a long time."
The report continued saying that the kids were chatting with Ben, smiling, and seemingly having a good time. But to be totally frank, what else would they do? Kids don't necessarily have a say in life's big decisions, like who their mom is going to partner up with and whether they want to move across the country or not (there are rumors JLo is packing up their home in Miami to relocate the kids to LA to be closer to Ben). So all kids really want in situations like this is for their mom to be happy. And what would they get out of it if they acted like grouchy, unhappy kids, especially in public?
It must be a lot of pressure to be in the public eye with literally millions of people speculating, watching their every move, and reading obsessively into everything said or unsaid. But, JLo and Ben chose this lifestyle. While the attention is a little much at times, they've also been down this road before and had to know how much their rekindling would spark up interest again.
However, now that there are kids involved, on both sides (Ben shares three kids with his ex, Jennifer Garner), things are different for Bennifer. If it later comes out that the kids think Ben is lamer than his Batman portrayal – or they love him and can't wait to call him their stepdad – we're team "whatever makes the kids happy."