J&J Vaccine Could Be Ready For Kids By September — What to Know
The J&J vaccine could be authorized for use in kids in a matter of months, a watershed development in the fight against COVID-19.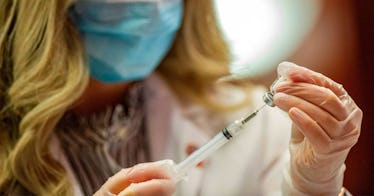 GETTY
The Johnson & Johnson vaccine could be authorized for use in kids within a matter of months, says J&J CEO Alex Gorsky.
After the Johnson & Johnson vaccine was given the seal of approval from both the Centers for Disease Control (CDC) and the Food and Drug Administration (FDA) in late February, the company producing the single-shot, refrigerated storage vaccine immediately announced their plans to begin testing the vaccine on more vulnerable populations. Those populations? Kids aged 12 to 18, pregnant people, and those with underlying health conditions or those who are immunocompromised. The aggressive plan to test the vaccine on these groups is part of a massive push to reach herd immunity not just in healthy American adults (who will all have a dose made for them by the end of May, according to the Biden administration) but also for children who will be going to school again, and pregnant people.Gorsky said in a press event on Wednesday: "I think it's likely to occur right in that timeline. The good news is, is that the FDA is already working with companies to establish the clear regulatory guidelines so that the appropriate data can be collected." The news follows a previous assertion by Dr. Anthony Fauci that kids would be able to start receiving COVID-19 vaccines in September — which, at the time, read a lot like reading the tea leaves and being incredibly optimistic about said dregs than the actual truth. Luckily, Gorsky revealed, the J&J vaccine type has already been used in lower age groups before, so there's little reason to expect that it won't be safe and effective in kids between 12 and 18. But, of course, the studies still have to be done. The studies will begin immediately for kids age 12 to 18, then will shift to pregnant and immunocompromised people. J&J also has plans to test the vaccine all the way down to newborns and infants. J&J's plan might sound aggressive, but it's only more of the same — Moderna and Pfizer, the highly effective, two-dose vaccines that were authorized at the end of 2020, are also testing on children. Of course, the difference between testing vaccines on children and then being able to vaccine said children is a different question altogether — as the production of vaccines starts being less of a bottleneck, the focus will be on states and localities on how well, and how quickly and equitably, they do indeed administer those vaccines.
This article was originally published on