Jimmy and Rosalynn Carter Share 75 Years of Amazing Marriage Wisdom
"We give each other plenty of space to do our own thing."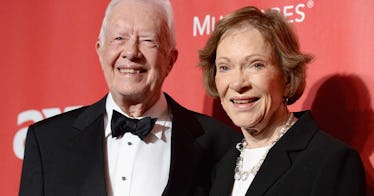 GETTY
This year has been stressful, we can all agree with that. For couples, the confines of lockdown have been positive or negative for relationships. Spending more time with our partners than ever before – juggling kids, work, and home duties all while staying in the same walls is stressful too. For Jimmy and Rosalynn Carter, their time in quarantine strengthened their 75-year marriage. And now they are sharing marriage advice in a new interview.
Speaking with Good Morning America, the 39th president said they've spent a lot more time together this year than previous ones. "We have hardly left our house," Jimmy said. "Before that, we had not been together all that much — ordinary family travel and so forth."
And Jimmy's wife, the former first lady, said the same thing. "It was just Jimmy and me," Rosalynn said. "And it was really wonderful."
Marriage isn't easy and staying together for as long as the Carters have is nearly unheard of. So, how do the Carters make their marriage work as the longest-married presidential couple in U.S. history?
"We've survived this long together because first of all, we give each other plenty of space to do our own thing," Jimmy admitted. However, they still ensure they're doing things together that they both enjoy, like fly fishing, skiing, and bird watching. Shared hobbies, then, seem to be important to the power couple.
"We're always looking to do things or find things we can do together, like fly fishing and bird watching and just going out to the pond, catch a fish," the former first lady said.
And while the couple is religious, choosing to read the Bible together nightly, any couple could take that advice and read nearly any book they wanted together for a sense of bonding. Add that to the common wisdom of not going to bed angry and you have a couple who have had a successful three-quarters of a century together.
The two sound like they've always approached their marriage as an adventure, along with life. "We've been blessed to be able to travel the world, almost," Rosalynn Carter said. "Everything with Jimmy Carter has been an adventure."
"For 75 years of marriage we've always gone deeper in our love for one another," Jimmy said. "I think that's a kind of extraordinary thing. Doesn't happen to very many couples, but it certainly happened to us."
Jimmy and Rosalynn Carter definitely know what they're talking about. And making life an adventure they tackle together sounds like the best marriage advice ever.
This article was originally published on