Bruce Springsteen's Daughter is Officially Going to the Olympics
Jessica was clearly born in the USA (and will represent the country in Tokyo on the equestrian team.)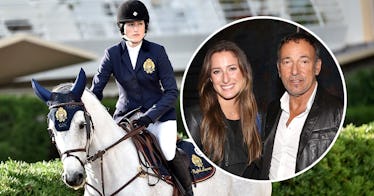 GETTY
There's no doubt in many American's minds that Bruce Springsteen is a musical legend, working-class hero, and ultimately, the Boss. And while he will forever be known as one of the greatest rockers of all time, his daughter is making her name in her own right — as an Olympian. She's born in the USA and she'll be representing the USA, too.
Jessica Springsteen will officially compete in the Olympics this year on the Olympic equestrian team.
According to Sports Illustrated, 29-year-old Jessica Springsteen was named as one of the four athletes set to compete on the U.S. Olympic equestrian team.
This is set to be Jessica's first Olympics, four years after not qualifying for the games in 2016 due to her horse experiencing some leg issues. Now, Jessica and her horse Don Juan van de Donkehoeve, a 12-year-old Belgian Warmblood stallion, will be competing for gold during the jumping events, which will take place August 3 through August 7.
"I think the chemistry between you and your horse can vary from ride to ride," Jessica told CNN in 2019.
"Some horses, you get on immediately, and you click right away, and others it can take a little bit longer and be a bit of a struggle," she continued. "But I think you have to be patient, and it has to be a mutual give and take between the horse. I think the key to getting the best out of your horse is just managing their schedule, making a good program in advance. You can pick shows that you think they'll peak at."