Jessica Biel Advocates Against California's Vaccination Bill
Could Biel be the new face of anti-vaxxers?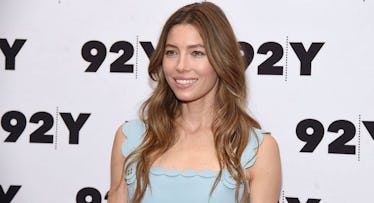 Getty
Look out, Jenny McCarthy, anti-vaxxers have a new celebrity ambassador to represent their uninformed, dangerous views on science and medicine and her name is Jessica Biel. That's right, the Seventh Heaven actress and wife of Justin Timberlake revealed herself to be in cahoots with the anti-vax movement, as Biel joined Robert F. Kennedy Jr. in advocating against a bill in California that would severely limit medical exemptions to vaccinations unless they have approval from a state public health officer.
Kennedy, who has all sorts of dumb opinions about the made-up dangers of vaccines, posted a series of photos on Instagram showing himself and Biel at the California State Assembly, where they reportedly were lobbying politicians to not support SB 276, which would close loopholes in the medical exemption process. The two were likely representing Children's Health Defense, a faux-environmental group founded by Kennedy that has repeatedly warned about nonexistent toxic levels of mercury found in vaccines.
Biel has been linked to anti-vax views in the past (there have even been rumors that she and Timberlake don't vaccinate their kids) but she's never shown this level of commitment to the anti-vax movement. And while it's very easy to make jokes about Biel and others ignoring mountains of evidence that show that vaccines are a safe and effective way to prevent the spread of disease, it's hard to laugh too much when you remember that measles, which was believed to have been eradicated back in 2000, is currently spreading across the United States because of people who refuse to vaccinate their kids.
Update: In an Instagram post, Jessica Biel says that she is "not against vaccinations" while also confirming her opposition to SB 276, writing that one of her "dearest friends have a child with a medical condition that warrants an exemption from vaccinations, and should this bill pass, it would greatly affect their family's ability to care for their child in this state."
This article was originally published on