Jergens Ultra Healing Moisturizer Has Been Recalled — Here's What to Know
So far there have been no reported issues, but the agency is urging people to check what they have at home.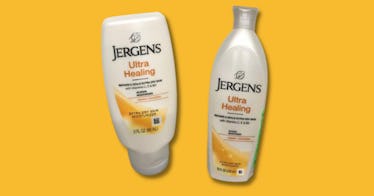 FDA
The U.S. Food and Drug Administration (FDA) announced Kao USA, owners of the lotion brand Jergens, voluntarily recalled two different sizes of one of its moisturizer products. The moisturizer product, Jergens Ultra Healing Moisturizer, is often used for both adults and kids, and the agency is asking consumers to check the product they're using at home to ensure it's not included in the recall. Here's what parents need to know.
What product is being recalled?
FDA announcedThe affected lot codes for the 3 oz size are:
ZU712851 ● ZU712871
ZU722881 ● ZU722851
ZU712881 ● ZU712861
ZU712911
The affected lot codes for the 10oz size are:
ZU722741 ● ZU722781
ZU732791 ● ZU732811
ZU722771 ● ZU732781
ZU732801 ● ZU732821
Why is Jergens Ultra Healing Moisturizer recalled?
Signs of infection from Pluralibacter gergoviae bacteria
International Journal of Systematic Bacteriology
What to do if you have a product included in the recall?
the highest industry standards.MedWatch program
This article was originally published on