Don't Take Our Word For It — LeVar Burton is Hosting 'Jeopardy!'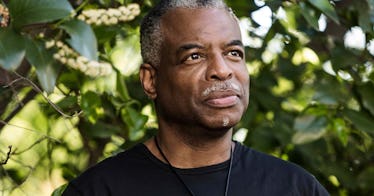 Getty
On April 21, 2021, new guest hosts for America's favorite and long-running game show that was once helmed by GOAT Alex Trebek (may he rest in peace) were announced. For super fans — like those who were super fans enough to create a petition for a certain 'Reading Rainbow' star to be able to take over a guest hosting spot — the updated list of new hosts is excellent news.
That's right: LeVar Burton will get to host Jeopardy! And, even better, he's not even close to the only new hosts announced on the ever-growing list of interim question-askers on what many call the best daytime quiz show ever made.
Alongside LeVar Burton are George Stephanopolous, Robin Roberts, David Faber, and Joe Buck.
LeVar Burton's announcement as a guest host has been a long time coming. After a fan-run petition was launched by people who are huge fans of the reading and knowledge advocate and iconic actor, Burton ended up signal-boosting it himself, making it very clear that he was really serious about joining the show, even if just for an interim guest host position.
The award-winning actor, director, educator, co-founder of the Skybrary App, former host of Reading Rainbow, and literacy advocate is an easy, almost brainless choice for hosting the show. After George Stephanopolous takes the helm, Robin Roberts will take over the show for a week in mid to late July and then Burton will take over for a week, before David Faber and Joe Buck.
Burton will host the show for four days, from July 26 to July 30, 2021. For the full list of guest hosts, head this way.