Jennifer Garner Rushes to Make Snacks for Her 3 Kids Before A Zoom Call
The healthy alternative to green smoothies?
by Isabella Bridie DeLeo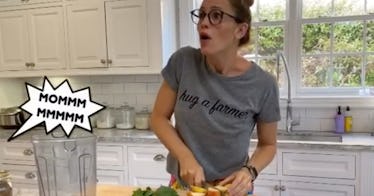 Jennifer Garner knows it's busy out there for parents as the school year has already started for many students, either in-person or virtually. Parents are having to juggle serving as an interim teacher of sorts, plus their own jobs and it's a lot. Even the Alias and 13 Going on 30 star is feeling how difficult it can be to juggle all these roles at once, with no end in sight. Garner just shared a funny and relatable video about what it's been like to be a mom during the pandemic, while also, y'know, plugging her latest product release.
In the video, Garner rushes to take a Zoom meeting while her kids ask for snacks. She presents one scenario: cut up fruits and veggies to make a green smoothie, which prompts a loud, frenzied sound that distracts from the meeting, or, pre-prepared crackers and applesauce in convenient packaging from Once Upon a Farm, Garner's new healthier snacking brand of organic, no-sugar added kids and baby food. Now, off course the applause is presented as the better option, it's her brand! But nevertheless, the promo video does reflect much of the mood in many households across the country, with parents having to manage hungry, screaming kids at all hours of the day, while also trying to work full-time.
Garner captioned the Instagram video, "Whatever Back-to-School means for you this year—it's here! 🎉 🙈🙃 If you've been hired to teach Reading, Writing and 'Rithmatic 😬—let us make your job as Snack Lady a whole lot easier— with homemade tasting deliciousness and without added sugar. We play well with others (hello, @pipsnacks & @partakefoods 🤗) or we're happy on our own. If my house is any indication, you are busy, Mamas!—and we are here to help." Hey, maybe it's worth trying if it actually saves a few minutes off of your snack routine? Or maybe just throw some Goldfish onto a plate and call it a day?
This article was originally published on