Somehow James Cameron Has Completed 'Avatar 2.' Get Ready for 2022!
The movie is actually, really, coming out in 2022. We think.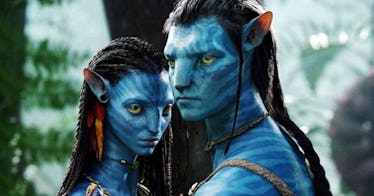 20th Century Fox
Nearly 13 years since audiences were first introduced to the world of Pandora and blue people in James Cameron's Avatar, there is finally an end date in sight for when audiences would actually expect to see a sequel — and even some progress on the state of the movie itself. It turns out, as Cameron revealed in an interview with the Terminator AKA Arnold Schwarzenegger, that Avatar 2 has finished all in-person filming and that Avatar 3 is nearly done — about 95 percent done, actually — with live-action sequences as well. But still, the movies are years off.
Not that far, though. Cameron suggests that Avatar 2 should hit theaters in 2022, after the movie was delayed because of COVID. And while Cameron, who has been filming the movie with cast and crew down in New Zealand, one of the only countries in the world to really have gotten COVID-19 under control and quickly, is glad that he was able to still keep filming, audiences must remember that the film is almost entirely CGI. What does that mean? That means that there's a ton of work to do in post production — probably the bulk of the work for the film. Which is why it's going to take another two years for us to see the movie.
The sequel to the box office hit (which was the highest grossing film of all time until Avengers: Endgame came out in 2019) has been long beset by production challenges, and COVID-19 mounted another one. The film, which was originally supposed to come out in 2014, had been delayed and delayed, but fans of the blue people can rest easy knowing that the sequel will be out sooner than we realize. And, most of the originating cast will be returning to the sequel, including Zoe Saldana, Sam Worthington, and Sigourney Weaver. New stars Kate Winslet and Cliff Curtis will also be joining the franchise.
Cameron has long maintained that he looks at the Avatar franchise as a five-installment film, but the fourth and fifth installments will only happen if the sequel and the third installment kick ass at the movie theaters. Hopefully, by 2022, movie theaters will be a thing again and the film will crush it.