Jamaican Bobsled Team Qualifies for Winter Olympics For First Time in 20+ Years
Are we about to get a 'Cool Runnings' sequel?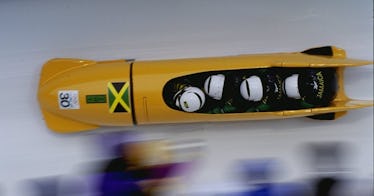 Shaun Botterill /Allsport/Getty Images
In a classic case of life imitating art imitating life, Jamaica will be sending a four-man bobsled team to the Winter Olympics for the first time in almost 25 years and inspiring countless millennials to rewatch Cool Runnings in preparation.
Jamaica grabbed the final spot in the 28-sled field to qualify for the Beijing Games, qualifying for the first time in the 21st Century. While the official lineup has not been announced yet, Shanwayne Stephens, a lance corporal in the Royal Air Force, is all but guaranteed to be the team's pilot for the Winter Olympics. Stephens was interviewed on Good Morning America along with teammate Nimroy Turgott to discuss their excitement about earning a spot in Beijing.
"We've put in a lot of hard work the last four years to achieve what we've achieved," Stephens said.
The first time Jamaica participated in the Winter Olympics at all was in 1988 when the four-man bobsled team unexpectedly qualified, which was the inspiration for the classic 1993 Disney film Cool Runnings. The movie follows the story of the Jamaican team earning a spot in the Olympics despite limited experience with the sport.
Since then, the tropical archipelago has competed regularly in the two-man bobsled, making it to every Winter Olympics except in 2006. But this is the first time since 1998 that the nation has qualified for the four-man event, so it means a lot to the country as a whole.
Along with earning a spot in the four-man bobsled, Jamaica will be competing in three bobsled events for the first time ever. They qualified in the two-man bobsled and in the women's monobob, which is a new Olympic sport. Benjamin Alexander also made history by becoming the first Jamaican skier to qualify for giant slalom, making him the second skier ever to represent Jamaica in the Olympics.
This article was originally published on