This Father-Daughter Coaching Duo Just Lit Up the Olympics
Gymnast Jade Carey just won gold in the floor routine. She says she couldn't have done it without her coach, who is also her dad.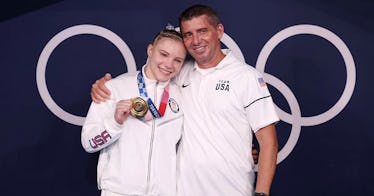 GETTY
Jade Carey won her first-ever Olympic medal today, grabbing the gold medal in the floor routine with an outstanding performance that she described as "the best floor routine I've ever done in my life."
Winning a gold medal is always a remarkable achievement, but what is really impressive is that the 21-year-old U.S. gymnast was able to bounce back from a disappointing showing at the women's vault on Sunday, where she placed last, and a disappointing individual all-around performance, too.
But rather than dwell on the past, Jade was able to focus and earn a score of 14.366, beating out Italy's Vanessa Ferrari to take first place. After her gold medal performance, Jade credited her dad Brian for helping her bounce back and pull off the win. She said that he told her not to worry about anything that happened before and just to leave it all on the floor, which clearly paid off.
"I just talked to my dad last night and we decided together that we were just gonna let it go the best we could and both put everything into tonight," Jade told reporters after the floor routine.
Brian is not just a supportive dad to Jade, he is also her coach, which allowed him to travel to Tokyo with his daughter to be by her side. After her fantastic performance, Brian said that he was "super proud" of Jade for being able "to refocus and get back out after it."
"Having my dad here means everything to me — this is all we've ever dreamed of," Jade explained. "And it's just really special to be able to get this medal with him out there by my side. And he's supported me 100 percent the whole time."
After it became clear that Jade was going to win the gold, she and her father shared a big hug that represented years of hard work and encouragement.