Is The Housing Boom Over? These Experts Say Yes
The housing boom might be over — but for a pretty depressing reason.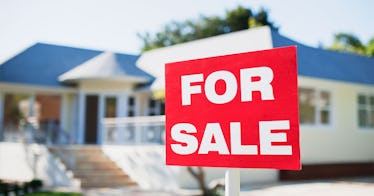 For the past several months, reports of a housing bubble have been nearly everywhere. In the last few weeks, even, it looked like that housing bubble that has plagued families was literally everywhere across the globe — from Australia to the United States to the UK.
A combination of ridiculously high lumber prices, low housing stock, and pent-up demand to move led to a complete crunch in the housing market, particularly in the United States, as the costs of single-family homes entered the stratosphere and various anecdotal news stories about houses receiving dozens of offers after being placed on the market for minutes flooded the airwaves.
But it looks like, per CNBC and data from the U.S. Census Bureau, the housing boom is finally over. So, maybe the housing market won't crash?
In June, sales of newly built homes dropped precipitously, to the lowest level since April of 2020, per the publication, dropping 6.6 percent from the month previous. That's despite the fact that housing market analysts had actually expected home sales to increase by nearly 3.5 percent.
The reason why? Well, it looks like the costs of the houses that exist in the market right now are simply too expensive for people who are looking to buy houses, from the aforementioned costs of lumber (which is now dropping but is still very high compared to the before-times) to other construction costs.
And, per one expert who spoke to CNBC, Peter Boockvar, it's been taking a long time to even build homes in the first place, likely due to product shortages, supply chain issues, and shipping delays that have plagued several industries for the totality of the pandemic.
That being said, some experts think the boom is far from over, though the market is clearly showing signs of cool down as the houses that exist are just too expensive for many buyers on the market.
Per Bill Conerly, a contributor to Forbes, who attributes some of the boom in housing sales to low mortgage rates that have allowed young people on the path to homeownership to buy earlier than they planned to, the housing boom will "flatten" in 2022 or 2023 when mortgage interest rates rise once again as the economy recovers.
Either way, though demand to buy is still strong, high costs and lack of housing supply remain key issues in the housing market, ensuring the buying boom is at least cooling down a little bit.
This article was originally published on