For Most Families, HBO Max Is a Hard Pass
The lack of Roku or Amazon Fire streaming is a deal-breaker.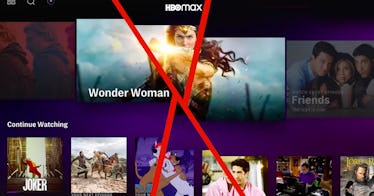 HBO Max
You may have heard a lot about yet another streaming-thingamajiggy that everyone is talking about; HBO Max. Yes, it is different than HBO Go, and no it's no the same as having an HBO subscription through Amazon Prime. HBO Max is its own thing, complete with original shows like The Not-Too-Late-Show With Elmo, as well as a ton of back-catalog including everything from Friends to every movie, pretty much, ever. That said at $14.99 a month, it might seem pretty steep. And now there's one HUGE reason for family's to hold-off: You can't stream HBO Max with the TV apps Roku or Amazon Fire.
For millions of families is a clear deal-breaker. Ever since streaming-only apps started to make cable TV obsolete, families seized upon the convenience of Roku and Amazon Fire; all you have to do is only have the streaming apps that you use, and you can watch them fairly easily on your TV. Speaking for myself, Roku has also saved my sanity on more than one occasion, simply because its old remotes come with a built-in headphone jack. These days you can use your smartphone as a remote, which is equally useful when the little one has gone to sleep.
But, the thing that Roku and Amazon Fire really have for families is they let you watch streaming stuff on a TV, which makes the experience of watching TV feel…well…duh…more like TV. Quibi also seemed to have missed this memo: Families don't actually like watching things on their phones, and with HBO Max, right now, most of us are forced to watch it on our laptops. Imagine if Disney+ had launched without Roku or Amazon Fire options. You can't.
Right now, both Roku and Amazon are blaming HBO Max for this. Here are the two statements from each company.
Roku: "As the No. 1 streaming platform in the US we believe that HBO Max would benefit greatly from the scale and content marketing capabilities available with distribution on our platform. We are focused on mutually positive distribution agreements with all new (over-the-top) services that will deliver a quality user experience to viewers in the more than 40 million households that choose Roku to access their favorite programs and discover new content. Unfortunately, we haven't reached an agreement yet with HBO Max. While not on our platform today, we look forward to helping HBO Max in the future successfully scale their streaming business."
Amazon Fire: "With seamless customer experience, nearly 5 million HBO streamers currently access their subscription through Amazon's Prime Video Channels," a company spokeswoman said. "Unfortunately, with the launch of HBO Max, AT&T is choosing to deny these loyal HBO customers access to the expanded catalog. We believe that if you're paying for HBO, you're entitled to the new programming through the method you're already using. That's just good customer service and that's a priority for us."
As pointed out by CNET, Amazon's response was a little more "aggressive," which makes sense simply because several customers already have an HBO add-on subscription through their Amazon Prime account. Does that add-on HBO subscription through Prime mean you automatically have HBO Max? It does not.
All of this is very frustrating for families. Because HBO Max as several family-oriented new shows — the aforementioned new Elmo talk show, and a brand-new version of Looney Tunes — it seems bizarre that getting this linked-up with Roku or Amazon Fire wouldn't have happened before the launch of the service.
Right now, my toddler had to watch the new Looney Tunes on a laptop, which is less than ideal. And, because she couldn't watch it on the big TV, do you know what she called it? "The wrong Porky Pig."
Until HBO Max gets itself on Roku or Amazon Fire, it seems like an obvious pass for families. Which is a shame. There's a lot of good stuff on there.
This article was originally published on