Insurance Will Cover 8 At-Home COVID Tests A Month. How Does it Work?
The new policy is incentivizing insurance companies to make it as barrier-free as possible.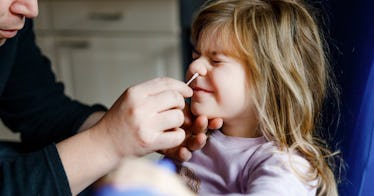 Irina Wilhauk / Shutterstock
We're all tired of the pandemic. As we approach the second-year mark and cases continue to surge – reaching record-breaking numbers thanks to the omicron variant – new measures have been vital to try and mitigate the spread. On January 10, 2022, the Biden administration announced private insurance companies will now be responsible for covering the cost of up to eight at-home rapid coronavirus rapid tests per person per month. Here's how it works and what you need to know.
When does the plan kick in?
The Biden administration faced criticism over the holidays because, while the federal government recommended families rapid test before gathering for their holiday celebrations, they provided little ways to do so affordably. Clinics across the country were overrun by people testing for travel — both PCR and rapid tests — and stocks of at-home rapid tests were depleted and hard to find in many of the nation's pharmacies. Beyond the fact that finding at-home rapid tests for coronavirus was near-impossible with a nationwide shortage, the cost was prohibitive as well — at-home tests can cost $30 for two tests at a time, meaning a family of four would have to shell out hundreds of dollars to test before and after events.
Now, the administration is working to make these rapid COVID-19 home tests more accessible by making them more affordable.
According to the New York Times, private insurers will be required to cover the cost of certain at-home coronavirus rapid test starting on Saturday, January 15. Each person will be eligible for up to 8 tests, meaning a family of four (if everyone is covered by the insurance) could have up to 32 tests covered by insurance per month.
Can you get COVID-19 tests you've already purchased reimbursed?
Unfortunately, this new policy doesn't cover any COVID-19 rapid tests that you've already purchased. The policy will only apply from January 15th onward. "Tests ordered or administered by a health provider would continue to be covered by insurance without co-payment or a deductible," the New York Times explains.
There's no limit on the number of coronavirus tests you can get that would be covered by insurance – including at-home ones – if they're ordered or administered by a healthcare professional. This 8 test limit only applies to ordering at-home tests for yourself without the help of a doctor.
How do you get your COVID-19 tests covered by insurance?
Once the new policy kicks in, COVID-19 rapid tests can be covered by giving insurance information at the time of purchase, if your insurance allows, or by keeping receipts for reimbursement.
The administration is "trying to incentivize private insurers to cover the tests up-front and without a cumbersome reimbursement process," PBS reports.
"Insurance plans that work with pharmacies and retailers to cover the up-front costs of the tests will be required to reimburse only up to $12 per test if purchased through an out-of-network retailer," the publication states.
Incentive for insurance companies to make this policy as streamlined as possible includes forcing companies that don't quickly set up a network of pharmacies to cover the full retail cost of the rapid COVID-19 test the customer paid, which will likely be more than $12 per test.
Why does this help?
"Today's action further removes financial barriers and expands access to Covid-19 tests for millions of people," Chiquita Brooks-LaSure, the Biden administration's Medicare and Medicaid chief, said in a statement, according to the New York Times.
The cost of the at-home tests can be substantial, especially for parents with many kids. The tests are typically sold in packs of two and they can range in price from $14 to $34. If a family of four were to require 32 tests each month, that could cost between $224 to $544 each month, which is astronomical for so many families. This new policy doesn't come without some criticism and concern. Some have voice worries over the fact that this new policy will drive more demand and stocking shelves with these rapid at-home COVID-19 tests has been a real challenge.
The Biden administration is also planning on sending 500 million at-home tests to people in need across the country and will launch a website where people can order the tests they need for free, from the government. This is a limited version of what other countries might do — for example, Britain makes it very simple for their citizens to order rapid tests – for free – online using a government website.