Instagram Just Rolled Out Parental Controls — Here's What to Know
The features will eventually roll out to other Meta apps.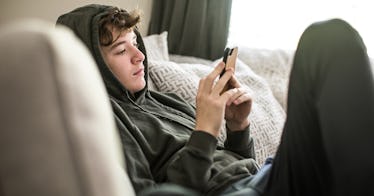 MoMo Productions / Getty Images
On Wednesday, March 16, Meta announced a new set of parental control tools designed to help protect the platform's youngest users. The roll out is happening now and will span across the Meta universe, starting with Instagram.
For years now, parents and lawmakers have been urging Meta to increase protections to keep teenagers safe, particularly because the terms of service allow anyone 13 years and older to sign up for an account. Now, finally, the company is rolling out enhanced parental controls in something it's calling the "Family Center."
What is Meta's new parental control "Family Center"?
The Family Center is Meta's answer to bringing more tools to families and their teens that use the company's products. It's designed to be a centralized hub of safety tools that give parents insights into what their teens can see and do across the apps.
The tools included in these controls will allow parents to monitor the amount of time their kids spend on the app and be given access to details such as which accounts they've followed, who has followed them, and will receive notifications should the teen flag any accounts through the safety channels.
"We'll be taking a stricter approach to what we recommend to teens on the app, we'll stop people from tagging or mentioning teens that don't follow them," the company said in a press release. Adding, "we'll be nudging teens towards different topics if they've been dwelling on one topic for a long time and we're launching the Take a Break feature in the US, UK, Ireland, Canada, Australia, and New Zealand, which we previously announced."
These changes are in addition to some other protections the company rolled out last year including "defaulting teens into private accounts when they signed up for Instagram," and stopping "adults from being able to DM teens who don't follow them."
When are these new parental features launching on Facebook and Instagram?
The Family Center will first roll out to Instagram in the United States starting March 16th, 2022. The company plans to launch across Meta's VR platform and through the rest of its apps, including Facebook, later this year.
"Over the next few months, we'll add additional features, including letting parents set the hours during which their teen can use Instagram and the ability for more than one parent to supervise a teen's account," Meta explained in a press release.
These new parental controls aren't automatically added.
While the new tools roll out today, Instagram users will have to enable the new protections from their own accounts. AKA, if your kid doesn't enable them from their account, there's no way for a parent to turn them on at this time. The company notes that they're hoping to have an option available for parents to enable these protections on their kids' accounts sometime later this summer.
This article was originally published on