Instagram for Kids is Officially Over — But There's a Catch
The controversial idea has been shelved for the time being after a wave of criticism.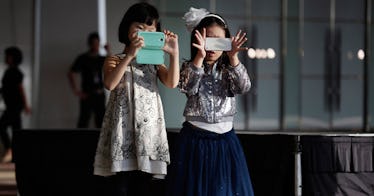 GETTY
Facebook is officially hitting pause on "Instagram Kids," a planned version of the app that would only be accessible for kids under the age of 13.
Head of Instagram Adam Mosseri made the announcement via a blog post, saying that the idea has been shelved. But much like Westley after having 50 years taken off his life in Princess Bride, Instagram Kids is only mostly dead.
Mosseri says that while the project has been indefinitely placed on hold for the time being, the long-term goal is to still develop an Instagram platform that is exclusively for kids while acknowledging the criticism the idea has faced.
"I have to believe parents would prefer the option for their children to use an age-appropriate version of Instagram – that gives them oversight – than the alternative," Mosseri explained in a series of tweets announcing the pause. "But I'm not here to downplay their concerns, we have to get this right."
There had been whispers of the development of "Instagram Kids" for a while but it has not come without its fair share of obstacles, including a series of reports from The Wall Street Journal highlighting the problems Instagram has faced. One story reported that Instagram's own internal research showed that the app had a negative effect on body image for teen girls, though Facebook has said that the data was misrepresented. Fatherly reached out to the company for comment on the plans to abandon Instagram kids.
Since it was announced, "Instagram Kids" has had no shortage of critics and skeptics, as many feel this is just a way to advertise to kids, though Facebook has said they would not feature advertisements on the app. In May of 2021, over 40 attorneys general published an open letter to Facebook CEO Mark Zuckerberg begging him and the company to can the Instagram Kids plans, citing Facebook's past issues with child safety (they had a reportedly disastrous rollout with Messenger Kids) and the fact that the platform would simply create a new product for children to be online, not solve a problem of children being online.
Internet safety experts have long suggested that a better alternative to kid's social media is kids not having access to social media at all. Others have said that while the idea of having a space for kids, with tighter safety controls, sounds good in theory, the reality may not work out as well due to concerns about privacy and safety. There are no completely safe internet platforms, and the safest internet is the kind that kids explore with their parents sitting beside them.
For now, it looks like the critics have won the day but it may only be a matter of time before "Instagram Kids" has returned from the dead.
This article was originally published on