This Town Will Give You $5,000 And Free Grandparents If You Move There
A small midwest town is making quite the offer to attract newcomers.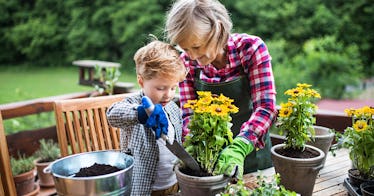 A small town in Indiana is offering potential movers thousands of dollars and access to "Grandparents on Demand" in the hopes of attracting families who are leaving the grind of city life in favor of suburban bliss.
Greensburg, a less than 10-square-mile town in Decatur County with a population of around 12,000, is offering people $5,000 for moving expenses, plus about $2,000 of value in the form of gift cards to local businesses and a yearlong membership to the local co-working space and YMCA.
"Our community is full of great people that will help an individual who moves here, or their family, flourish and grow and be a part of the community," Greensburg Mayor Joshua Marsh said.
As remote work has become more common, especially due to the pandemic, people have started leaving cities in favor of small-town life. But with plenty of small towns to choose from, certain hamlets have begun offering perks in order to entice potential movers to select them as their new homes. And in this case, those perks include a moving bonus and a service that will offer free childcare in the form of "Grandparents on Demand."
So what is "Grandparents on Demand" anyway? According to Greensburg officials, the service will pair new arrivals with local senior citizens who can babysit kids, along with acting as stand-ins for something called Grandparents Day at school. The actual logistics of this aren't fully clear, but senior citizens have expressed their enthusiasm for the program.
"I am willing to be a grandma to anyone's child who needs that person in their life," Tami Wenning, the executive director for the Decatur County Community Foundation, said.
To receive the incentives, people must move in the next 6-12 months and either work remotely or be self-employed outside of the city. This unique program was developed by Greensburg through a partnership with MakeMyMove, an Indianapolis-based group.
This article was originally published on