Here's How To Watch Nickelodeon's Presidential Pets Special
The essential viewing of the history of presidential pets is a must-watch for kids.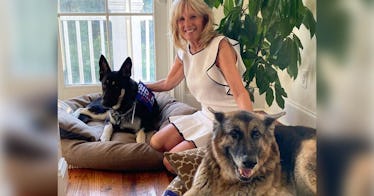 Jill Biden/Instagram
Are you ready to show your kids Champ and Major become the two new First Dogs of the United States, and reveal the history of their four-legged White House occupant predecessors? Well, now you can.
Watch here starting at 10 a.m. EST, where history is being made as to the 46th president of the United States, President Joe Biden, will be inaugurated alongside Vice President Kamala Harris, the first South Asian, Black, and woman, all separately, to be inaugurated as VP. The ceremonies will last all day, from the inauguration to TV specials to a kid-friendly live-stream hosted by Keke Palmer and performances in the evening.
But for those who are looking to watch the erm, more kid-friendly version of the inauguration, hosted by Keke Palmer, which has tons of features including a coloring book, a shout out from Dr. Jill Biden, the first FLOTUS who will keep her job outside of the White House, student voices courtesy of PBS NewsHour, trivia questions, an appearance from Doug Emhoff, and more, they should know one vitally important fact: at some point in the live stream from 10 a.m. to 12:30 p.m. EST, Nickelodeon will be airing a segment on the history of presidential pets.
The history of presidential pets is storied, and Camp and Major, just like the other entrants to the administration, are history makers. They are the first-ever rescue dogs to take occupancy in the White House! But they are far from alone in being the companions to the President and crew. Barack Obama famously promised his two daughters a dog when he won the White House. George W. Bush had two small scruffy dogs named Miss Beazley and Barney, as well as an English Springer Spaniel, Spot. Bill Clinton was the owner of a cat named Socks, as well as a labrador retriever named Buddy. In fact, nearly every single President except for James K. Polk and yes, you guessed it, outgoing president Donald J. Trump has had a pet during their time in the White House.
The presidential pet special will go over all of the best friends of the President, over the span of the history of now 46 leaders of our nation, and will surely provide new fun facts about the most well-protected pets in the world. We can only hope, however, that we'll get access to Champ and Major, who is soon to take office in their official and important roles as First Best Friends. Just keep your eyes glued to the kid-friendly inauguration here or below and perhaps you'll catch a glance at them.