IHOP Serves All-You-Can-Drink Milkshakes After Viral Adam Sandler Snub
But you can only get them if you're where Adam was snubbed in the first place.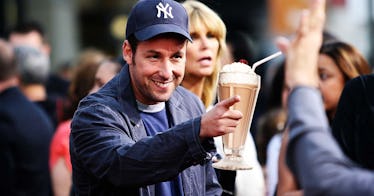 GETTY
IHOP has declared today 'Milkshake Monday.'
In response to Adam Sandler getting turned away from one of the chain's stores because he didn't want to wait 30 minutes for a table (understandable), an IHOP hostess working at the restaurant posted a viral video of her realizing that she had turned away Adam Sandler. The interaction blew up everywhere, especially after Sandler revealed it wasn't the wait that made him leave — it's that the milkshakes weren't unlimited as a part of the unlimited meals at the International House of Pancakes.
And now, the viral moment has hilariously turned into corporate change.
"We take our guests' suggestions very seriously in an effort to continually shake things up and satisfy all palettes," Kieran Donahue, CMO, IHOP said in a press release after Adam Sandler addressed the viral TikTok snub.
This entire thing began last week when Sandler tried to go to IHOP with his daughter only to be told that he would need to wait 30 minutes for a table. Rather than wait it out, Sandler decided to try his luck elsewhere, per a TikToker who worked at the restaurant.
After he left, the hostess realized who she had just turned away and posted a TikTok of security footage of the event, with herself in a clown face, begging Sandler to come back. The video eventually reached Sandler, who joked that the only reason he left is that IHOP wasn't offering all-you-can-eat milkshakes.
This article was originally published on