Here's How You Can Help The Victims of the Surfside Building Collapse
Nearly 150 people remain missing as rescue workers continue to look for survivors.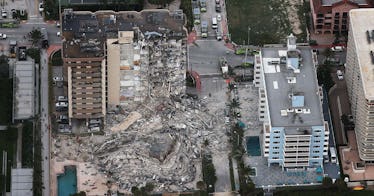 GETTY
Rescue workers have continued digging through the rubble of the Champlain Towers South in Surfside, Florida in the hopes of finding survivors. The 12-story condominium partially collapsed at approximately 1:30 am on June 24 and officials have confirmed that at least 12 people have died, while around 149 people remain missing.
After a week of searching, family members are still left waiting for any update on their missing loved ones. And even many who survived the collapse now have no home. You can help the victims of this terrible tragedy by donating to one of the organizations committed to helping those affected.
The American Red Cross
The American Red Cross is assisting displaced residents by helping them find shelter, along with providing them with food. The non-profit organization is also offering survivors emotional support. You can donate here.
Support Surfside
Several local organizations, including the Miami Heat, the Coral Gables Community Foundation, and the Key Biscayne Community Foundation have created a fund to support victims. You can donate here.
Surfside Building Collapse Victim Fund
Neighbors 4 Neighbors set up this fund to give victims long-term financial support to help cover unexpected expenses, like things not covered by insurance. You can donate here.
Food Rescue U.S.
The organization is providing meals to first-responders, survivors of the collapse, and family members whose loved ones remain missing. You can donate here.
United Way: Operation Helping Hands
The international network of local nonprofits is providing financial support to victims of the collapse. You can donate here.
Before you donate anywhere, it is important to take the time to ensure your money is actually getting to people in need. You can confirm that a charity is eligible to solicit in Florida through the state's Check-A-Charity database. You can also check the Better Business Bureau's Wise Giving Alliance at Give.org or Charity Navigator to see if a charity has complaints lodged against it.