Here's When (And How) To See The Next 'Snow Moon' This Week
The sky is getting weird. Don't miss it.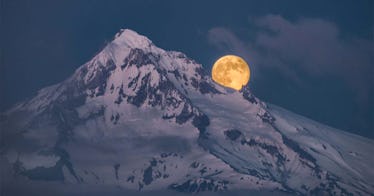 We have officially reached the dead of winter and the combination of cold weather and an ongoing global pandemic has caused many of us to take a semi-permanent residence on our living room sofas. But while spring is still several weeks away, there is a good reason to actually go outside because this weekend, as you will have the chance to see the Snow Moon at its peak. Here is everything you need to know about the Snow Moon, including what it actually is, along with when and where you'll be able to get the best look at it.
The Snow Moon, which is the nickname for February's full moon because of the heavy snowfall that typically occurs during this month, is set to appear in the sky on the night of Friday, February 26, and will remain visible into the early morning hours on Saturday.
The moon will first become visible at around sunset on the 26th and then the Snow Moon is expected to reach its peak at around 3:17 am EST, which is when it will be at its brightest. However, you do not have to stay up that late to get a good view of the Snow Moon, as it will reach its highest point at around midnight. If you want to get a specific timeline for your area, you can use Farmers Almanac's moonrise and moonset calculator to see exactly when the Snow Moon will be visible where ever you are.
So make a plan to head out to your balcony or backyard or your outdoor space of choice on Friday night and get a good look at the moon beaming down on us with all its beautiful brightness. Though if you end up passing out early and missing the Snow Moon, don't worry about it too much, as the Worm Moon, March's full moon, will come around in a little over a month.