How to Teach Your Kids To Rap Like Lin-Manuel Miranda
New online classes from Miranda's Improv Troupe are here to help.
by Isabella Bridie DeLeo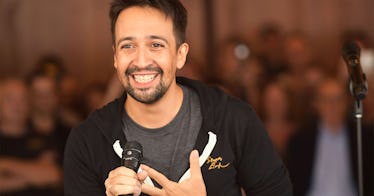 Getty
So you've just finished watching Hamilton on Disney+ with your kids and you (and/or your little ones) want to dive in a little deeper? Well, Freestyle Love Supreme Academy could be the answer. In case the vivid but vague name might not clue you in too much about what it is, here's what you need to know.
Before there was Hamilton and The Heights, there was Freestyle Love Supreme, an improv troupe with Lin-Manuel Miranda, Daveed Diggs and more, that first got a taste of fame at the Edinburgh Fringe Festival. In 2018, the Freestyle Love Supreme Academy, a training program complete with virtual improv classes and even summer camps for kids to help you learn how to freestyle rap like they do in Hamilton, was born. There's even a new Hulu documentary, We Are Freestyle Love Supreme, about the popular group.
So if you want to take your beatboxing skills to new heights, the academy gives participants the chance to virtually connect with other classmates, perform remotely, and learn from acclaimed performers including Chris "Shockwave" Sullivan, Tarik "Tardis Hardaway" Davis and Andrew "Jelly Donut" Bancroft. Sadly, however, Lin-Manuel Miranda won't actually be leading any of the classes, but he'll be there in spirit.
Kids can take remote two weeks of summer camps this summer, one from August 10-14 and the other from August 17-21, for $300. There are youth and teen individual classes every Thursday, for $25 per class. Adults can also take remote classes, including a $100 introductory class called "Welcome to the Cypher." In the heights of the pandemic, this could be a great option to learn a new skill?
To get your kids signed up for summer camp, which costs $300 per student, you can fill out this form here. To register for youth classes, which are $25 per session or $90 for four sessions, you can email academyad@freestylelovesupreme.com.