Free Goodnight Phone Messages From Disney Characters Will End in August
Right now, your kid can have one of five Disney characters to wish them goodnight free of charge, but only for a limited time.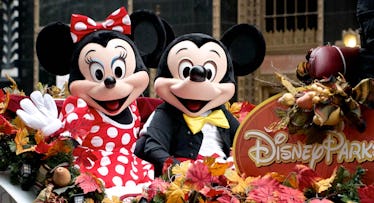 Getty
If you're having a hard time getting your little one to bed, and you need some help, Mickey Mouse, Minnie Mouse, Donald Duck, Daisy Duck and Goofy are all here to help. In fact, you can call them all on the phone right now and have them help you tuck in your child for bedtime by wishing them "goodnight." But, these special phone messages won't last long and will, in fact no longer be free in a just a few short weeks.
As of now, if you call 877-7-MICKEY — or 1-877-764-2339 — you'll get a quick recording of a guy telling you which options you have. Press 1 for Mickey, 2 for Minnie, 3 for Donald, 4 for Daisy, or 5 for Goofy. It totally works. The messages also aren't just the characters saying "goodnight," there's a decent little preamble there, too. They'll say "thanks for calling," and mention some stuff about pajamas and snuggling for good measure.
In general, Disney isn't really doing this out the goodness of their hearts because this entire thing is pretty much just a promotional stunt for Disney's online "Sleep Shop," where you can get a bunch of Disney-themed stuff for bedtime, for kids of all ages. Notably, Disney didn't expand the Bedtime Hotline to other characters the corporation happens to own. Which is a shame, because though getting a bedtime message from Mickey is great, having Captain America or Luke Skywalker tuck you in over the phone seems even better.
The Bedtime Hotline ends on August 31, which will be really hard to explain to your kids. Why can't we call Donald Duck for free anymore? I guess he changed his number.