5 Best How To Cut Your Own Hair Videos, Ranked
Here's how to chop your hair without f*****g it up.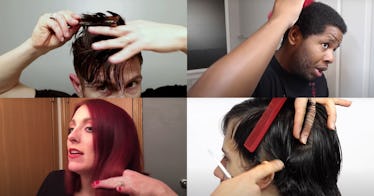 It's been a long time since we've all been to the hair stylist or the barber shop, and as a result, our hair has started to look… well, a little bit unkempt. Some may be tempted to grab the dusty pair of clippers in their drawer and buzz it all off, but for those who still want to look like themselves or keep some semblance of high-fashion normalcy in these trying times, there are some great YouTube tutorials that can help. From the lengthy, to the brief and easy, to the big chop, here are five of the best how to cut your own hair videos on YouTube.
Alpha M.'s Quick & Easy Home Haircut
For those who don't have a lot of time on their hands — but also desperately need a shape-up – Alpha M.'s 11 minute hair cut tutorial which requires only a pair of scissors, a comb, a handheld mirror, and a pair of clippers. Plus, it's a stylish haircut tutorial. No bowl cuts or buzz-cuts will be found here.
Game Changer's Haircut Tutorial
This video clocks in at 35 minutes and for good reason. YouTuber GameChanger does a touch-up of his hair in this video while explaining the "why" of every move that he's doing for those who might not be hair-stylist-literate.
Hair By Heather's Simple Trim
While our quarantine hair has begun looking worse for wear, not every single self-haircut needs to be a big chop. In this simple tutorial (by a licensed cosmetologist who often cuts her own hair) she demonstrates a dry cut with a simple pair of scissors and without any fancy-shmancy techniques like using clips to section out hair. She's concise, detailed, and explains even how to hold scissors correctly.
Myhaireducation Men's Haircut, Step by Step Tutorial
For families quarantining together, more often than not a parent will be enlisted to cut a kid's hair. This is where Myhaireducation's men's haircut tutorial steps up in a major way. It explains how to cut someone else's increasingly shaggy hair into a nice, sharp men's haircut with just a pair of scissors.
Sharee Anonuevo's Big Chop Tutorial
Some of us have gone longer than others in getting our hair cuts. Since the typical hair cut schedule is about two to three times a year, some quarantined folks may have gone longer than others and might need a massive, big chop. That's where the big chop comes in — and Sharee gives some great tips as to how to chop off length without absolutely fucking up your hair. You'll need some hair ties and some scissors, but that's it!
This article was originally published on