Canceling Disney+ Is Hard. But Maybe That's a Good Thing?
Are you sure you're ready to bail?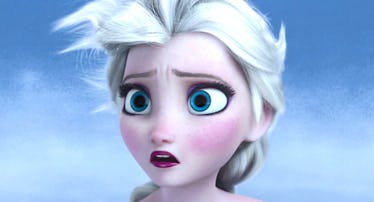 Credit: Disney
Now that the first season of The Mandalorian has ended and you binge-watched all The Simpsons episodes over the holiday, you may be feeling it is time to let go of Disney+. Perhaps you've got choice overload between all the new services and are trying to cut back or you're not thrilled with the titles that are available, canceling Disney+ is an option wither you signed up monthly or bought the yearly bundle price. However, canceling Disney+ is a little complicated depending on how you signed up in the first place, but we'll walk you through it.
How to Cancel Disney+?
For the most part, Disney has made it relatively straight forward to cancel the subscription, but things do get a little complicated if you signed up for the services on your phone. For the majority of people, signing into your Disney account on a web browser is the easiest path to canceling.
Sign in to your account at disneyplus.com and click Profile on the top right corner. From there, click the Account option and next to subscription, you'll click on Billion Options. You will be taken to a page that will outline the type of subscription that you're on, whether it be yearly or monthly. To cancel altogether, choose "Cancel Subscription" where clicking on that will take you to another page that will try and get you to re-think your decision. This page will share some reasons that Disney+ is awesome and have you will need to click another button to move forward with your cancelation. Choose "Complete Cancelation" – then you're asked to select a reason why, which you can't skip. After you do all these steps, you should receive an email with the address you signed up for, confirming the cancelation.
What Happens When I Cancel Disney+?
After you hit that "complete cancelation" button, the service is still available until you hit your next billing cycle. If you cancel on the day your free trial was over, or you were about to roll into the next month but have a few days left, you'll still have that time to be able to access the services. If you canceled a year-long subscription, you won't be able to access once the full year is up.
How to Cancel Disney+ If You Signed Up on Your Phone Or a Third-Party?
This is where things get a little complicated for people. If you signed up for the service on your phone or a third-party like the App Store or Google Play) the steps are a little different.
To cancel on your iPhone, head over to Settings, tap your name, which is at the very top. From there, navigate to "Subscriptions," and if you did sign up for Disney+ through your iPhone, Disney+ will appear here. Click on Disney+ and select "Cancel Subscription."
If you signed up to Disney+ through Google Play, open the store on your Android phone, click on Menu, then Subscriptions, and from there navigate to Disney+ and select "Cancel subscription."
If you're not sure where you signed up, follow the same steps to cancel using a web browser. When you get to Billing Details, there should be hyperlinks to follow to cancel via whichever third-party service you signed up for it with.
What If I change My Mind and Want Disney+ Again?
If you went through all the steps to cancel and you've got regret, signing back up is way easier than it was to cancel, because of course. If you want to re-sign up or cancel your cancelation, head to the site on a web browser and sign back in using your email address and password. Click on Account at the top right screen and re-enter your billing informant. Unfortunately, you can only use the free 7-day trial once, per email address.