Please Put The Spike In Toddlers Accidentally Eating Marijuana In Perspective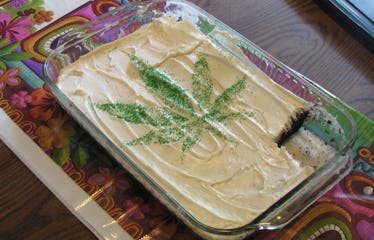 Flickr / animakitty
A few months ago parents, pot users, and perhaps both (no judgement) had reason to rejoice when research out of Washington state showed that legalization did not increase use among adolescents. Unfortunately, that study failed to take into account kids who are too young to get stoned on purpose. That demographic loves eating brownies, cookies, and gummy candies as much as the cannabis industry likes putting weed into them. As a result, more toddlers are getting sick because they ate something out of their babysitter's purse.
The study, published in the journal JAMA Pediatrics, looked at 244 kids — 81 children evaluated at Children's Hospital Colorado and 163 marijuana exposure incidences at the state's regional poison center (RPC) — with the median age of 2.4 years old. On average, the rate of pot poisoning at the hospital increased from 1.2 per 100,000 before legalization to 2.3 per 100,000, and annual RPC pediatric marijuana cases increased 5-fold from 2009 to 2015. A majority of kids had symptoms of poor balance, sleepiness, and a piqued interest in your Grateful Dead t-shirts that went away within 6 to 24 hours. But about 20 percent needed to be admitted, and 15 percent of cases wound up in the intensive care unit.
This seems like a big win for anti-legalization advocates, but The Washington Post points out that your kid is far more likely to get poisoned by a number of household items including toothpaste, diaper cream, and crayons. That's right, there were 1,683 crayon-related poison control calls for kids in 2014. But no matter how slight the chances you still don't want this to happen your kid. The study cites the the sources of weed were often parents, neighbors, friends, babysitters, family members, and even grandparents. It's never too early to have a talk with your kid about grandpa's "glaucoma candy"… or a talk with your dad about childproof containers.
[H/T] CNN
This article was originally published on