Housle Is Wordle For The Housing Market & It's Super Fun
If you love daily challenges like Wordle, there's a more topical (and more depressing) version available now. Meet Housle!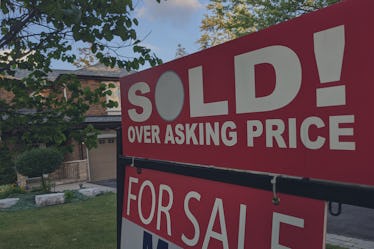 Shutterstock
Two years ago, people logged into Twitter and were met with a feed full of green, yellow, and grey squares from a now-famous game called Wordle. The online brain-teaser game quickly became massively trendy — it was even the most-searched world on Google in 2022. If you're still a devoted follower of Wordle, or if you love daily challenges like it, there's a more topical — and kookier — version of Wordle available right now. Meet Housle!
Housle is a daily trivia game like Wordle, but instead of guessing a 5-letter word, your task is to guess the listing price of houses. To play, you're presented with a photo of a property and you have six tries to guess within 5% of the correct listing price of the property.
"With each incorrect attempt, you'll learn if you guessed too high or too low, and then receive a new photo and clue," the game rules read. A clue might be more photos of the house or letting you know how many bathrooms there are on the property. When you guess the price correctly, within 5%, you win. Like Wordle, the game ends if you make all six guesses incorrectly.
The game then displays the correct listing price and what the correct guess range would be. There's also an option to view the home listing if the house piqued your interest — or you just want to see more photos.
It's a perfect game for people who love looking at homes and dreaming about what could be, particularly if you've been priced out of homeownership.
After all, a recent S&P Global Ratings report indicated it would soon take 11.3 years of income to save up enough money to have a down payment for a starter home, and that by 2025, 60% of households will be completely priced out of being able to purchase a starter home. For many of us, renting might just be the only thing we can afford for quite some time.
So, for now we can live vicariously through photos and play make-believe by trying to guess housing prices in Housle.