If You Live in One Of These Cities, Prepare for a Housing Bidding War
The US just marked its highest levels of bidding wars ever, making homeownership even more impossible.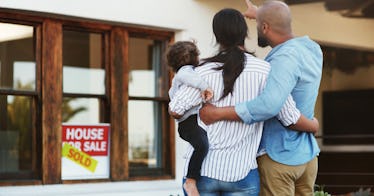 Dean Mitchell / Getty Images
Thinking about jumping into owning a home? Then you know the market is going gangbusters at the moment. Housing demand is high while stock is low and, as a result, the costs of homes have skyrocketed. If you're in the market now, you're no stranger to the level of competition it takes to get a bid accepted on a home. In many cities, a bidding war for homes is more likely than not. Especially so if you live in one of these 10 cities.
According to Redfin, bidding wars are still intensifying, however, there's some good news. They're doing so at a slower pace than they were two years ago, at the start of the pandemic.
In February 2022, Redfin records show it marked the highest levels of bidding wars, adjusted on a seasonal basis. The percentage of home offers on properties that faced bidding wars, according to Redfin records, was 68.6 percent. Compared to only 60.2 percent at the same time last year, that's a pretty big jump. Even more so when we look at April 2020 numbers, which chows only 32.7 percent of offers had a bidding war.
"Competition will likely plateau or even decline if rates keep increasing as expected. Monthly mortgage payments for new buyers are already at a record high. As they continue to creep up, some buyers will move to the sidelines," said Daryl Fairweather, Redfin's chief economist.
We know there's a lot of variation across the country, and with that, some homes in cities are more likely to end in a bidding war according to the data collected by Redfin.
"El Paso, TX had the highest bidding-war rate of the 50 U.S. metropolitan areas in this analysis, with 87.5% of offers written by Redfin agents facing competition in February," the company reports. "Next came Denver at 83 percent and Minneapolis at 81.1 percent. Raleigh, NC and San Francisco/San Jose rounded out the top five, with bidding-war rates of 80 percent and 79.9 percent, respectively."
Top 10 cities with the highest housing bidding war percentage:
El Paso, TX with 87.5 percent
Denver, CO with 83 percent
Minneapolis, MN with 81.1 percent
Raleigh, NC with 80 percent
San Francisco / San Jose, CA with 79.9 percent
Colorado Springs, CO with 79.5 percent
Spokane, WA with 79.2 percent
Seattle, WA with 78.9 percent
Sacramento, CA with 78.8 percent
Boston, MA with 78.6 percent
Top 10 cities with the lowest housing bidding war percentage:
Greensboro, NC with 25.9 percent
Bakersfield, CA with 39.4 percent
Cleveland, OH with 46.4 percent
Jacksonville, FL with 46.7 percent
Allentown, PA with 52.2 percent
Houston, TX with 55.9 percent
Orlando, FL with 59.7 percent
Honolulu, HI with 60.8 percent
New York, NY with 60.8 percent
Miami, FL with 61.3 percent
Another data point that Redfin discovered is that townhouses were the most competitive property type since it's more affordable than single-family homes. Homes listed in the $1 million to 1.5 million range were the price range that was more likely to face competition in bidding-wars. The least competitive homes were listed for less than $200,000.