This Kid-Run Pep Talk Hotline For Stressed Out Grownups Is Totally Amazing
The messages are "full of wisdom, beauty, and hope."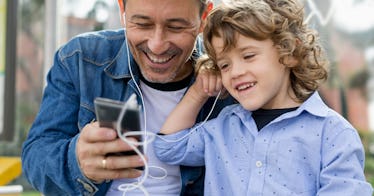 Westend61 / Getty Images
The world has been so heavy for the past few years and it's not showing any signs of slowing up. Between politics – both national and international – COVID-19, worries about the economy and the environment and human rights, the list could go on and it's a lot. For adults and for our kids too. That's why we love this new kid-run hotline that gives pep talks to people who are stressed and depressed.
On Twitter, Tara Trudel shared a "heartwarming alert" about a group of Bay Area kids who participate in a kid-run hotline. The hotline, which is overseen by teacher Jessica Martin, shares pre-recorded messages from kids between the ages of five and 12. The pre-recorded messages are pep talks, which Tara says, "are full of wisdom, beauty, and hope."
After the tweet, other users replied saying they called the hotline and the advice in the pre-recorded messages were everything they hoped it would be. "What a wonderful idea!" one person tweeted. "I just kept smiling as I listened to students changing the world for the better. Their advice is priceless."
"Thank you so much for sharing this, Tara!" another wrote. "This made my day. I had to listen to all of the messages and now, I'm crying. Happy tears, of course."
In a follow-up tweet, Tara shared that she spoke with Jessica who said the call number was receiving a lot of calls… probably because of the tweet. But luckily, we can all help out to keep this amazing service running. "I spoke with Jessica! The current rate of calls costs $800/day," Tara explained. "She is determined to find an alternative or sponsorship to get it running again."
When a Fatherly reporter called the hotline on March 3rd, a voicemail confirmed they experienced an unprecedented volume of calls today which has resulted in the support line being down temporarily. The voicemail also mentioned the hope is to have the call line up and running within the next day.
However, as Tara points out, people can also financially donate to the hotline to support its running costs and any extra funds would go towards the school's art program. There are several ways to donate, which are outlined on Jessica's website.
If you're in need of a pep talk pick-me-up, the current number to call is 707-998-8410. If you don't get through, try again tomorrow and consider donating if you can.