Homeland Security Considering Prosecuting Parents Caught Crossing the Border With Their Children
Top immigration official have begun putting pressure on Homeland Security Secretary Kirstjen Nielsen to shift America's border protection policies.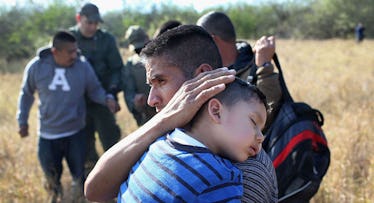 Getty Images
Top immigration officials have reportedly begun putting pressure on Homeland Security Secretary Kristjen Nielsen to consider allowing border patrol to detain and prosecute any parents that are caught crossing the border illegally with their children. If this new measure were to be approved by Nielsen, The Washington Post estimates that "the zero-tolerance measure could split up thousands of families." This would represent a massive change in policy for the Department of Homeland Security, as families have historically been allowed to stay together even when they have been detained while attempting to cross the border.
A memorandum, which was obtained by The Washington Post, outlines the basic proposal, which was created in order to counteract the steadily increasing number of attempted crossings over the past year. Unnamed officials believe that arresting adults, even those with children, would be the most effective way to deter people from attempting to cross the border illegally.
Homeland Security spokeswoman Katie Waldman released a statement saying the Department of Homeland Security "does not have a policy of separating families at the border for deterrence purposes. DHS does, however, have a legal obligation to protect the best interests of the child whether that be from human smugglings, drug traffickers, or nefarious actors who knowingly break our immigration laws and put minor children at risk."
Immigration remains a heavily divisive topic in America, as Trump has encouraged ICE and Homeland Security to increase efforts to detain and deport illegal immigrants. While some have praised the Trump's commitment to securing America's borders, others have criticized the administration for targeting and arresting parents, leading to families being torn apart. If parents crossing the border begin to get prosecuted, it seems likely that immigration will become an even more polarizing issue than ever before.
This article was originally published on