Home Sales Continue to Drop as Mortgage Rates and House Prices Keep Rising
The median existing house price hit an all-time high last month.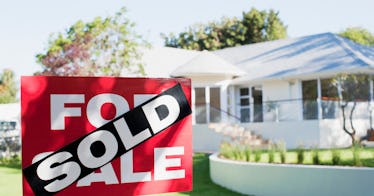 Martin Barraud / Getty Images
The housing market has been strange over the past few years. A life-changing pandemic paired with unemployment and an economy that needed to be boosted left us with an interesting housing market. Home sales have been rising in price for a while, but the COVID-19 pandemic shifted things again.
With more homes being purchased for more money than they would have before, paired with low mortgage rates – it became a seller's market. But things are shifting again as the market levels off, home sales have dropped again, but house prices and mortgage rates are soaring.
Last month, the National Association of Realtors report showed existing-home sales dropped to the lowest number in a year this past February. Interest rate hikes spiked, and growing price tags pushed first-time and middle-income buyers out of bidding wars for a place to call their own. As a result, sales of preowned homes dropped 7.2 percent from January to February, down 2.4 percent from last year. And the latest report for this month shows that it isn't slowing down at all.
The National Association of Realtors released another monthly report which shows preowned home prices are continued to decline. Sales fell another 2.7 percent between February and March. Comparing sales to a year ago, sales are now down 4.5 percent from last year. And it's due to record high inflation rates and rising mortgage rates.
"The housing market is starting to feel the impact of sharply rising mortgage rates and higher inflation taking a hit on purchasing power," Lawrence Yun, chief economist for the National Association of Realtors, said in the report. "Still, homes are selling rapidly, and home price gains remain in the double-digits."
The median preowned home price for all housing types was $375,300 in March, an increase of 15 percent from the year before. The rise marks 121 consecutive months of year-over-year gains, which is the longest-running streak on the record.
"Home prices have consistently moved upward as supply remains tight," Yun said. "However, sellers should not expect the easy-profit gains and should look for multiple offers to fade as demand continues to subside."
Mortgage loan interest rates have jumped, even from what the rate was last month. According to Freddie Mac, a government-sponsored mortgage loan company, a 30-year, conventional, fixed-rate mortgage was 4.17 percent in March. This is up from 3.76 percent in February and above the average rate across 2021, which was 2.96 percent.
What does all this mean for families? Owning a home is becoming more and more unaffordable for many Americans. It can feel particularly impossible for people looking to enter the market or meet the increase in mortgage loan rates.
The experts all agree that prices for preowned homes aren't likely to drop at all this year. But coupling that with record-high inflation and the loss of several government safety net programs, more families are likely to struggle to make ends meet and face financial insecurity.