Home Sales Are Finally Falling — But The Reason Why Is Depressing
Record-breaking home prices are to blame.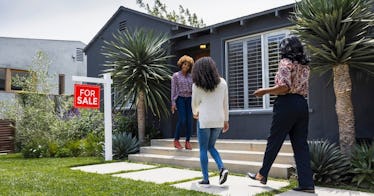 The Good Brigade / Getty Images
According to a new report from the National Association of Realtors, existing-home sales dropped to the lowest number in a year in February as interest rate hikes and skyrocketing price tags push middle-income and first-time buyers out of the running for homes. Sales of preowned homes dropped 7.2% from January to February and are down 2.4% from this time last year, surprising analysts who expected a decline, just not such a steep one.
Why Have Home Prices Been So High?
Experts partially blame low inventory for the record-breaking home prices we've seen over the last two years, and, unfortunately for aspiring buyers, that inventory is just getting lower. In February, there were only 870,000 homes for sale in the U.S., a 15.5% drop in inventory numbers from February 2021. And it's not just that there are fewer homes on the market; it's also that sellers are receiving offers in record time, resulting in bidding wars and sales prices considerably over the asking price.
But inventory shortages aren't the only factor. Mortgage loan interest rates have jumped almost a full point since the end of 2021, and monthly mortgage payments are up by 28%, pricing many people out of homeownership completely and putting many current homeowners at risk of foreclosure.
Will Home Prices Drop in 2022?
Experts are unsure of the likelihood of the market leveling out this year. "It will take a sharper drop in sales to bring the market back into balance and allow prices to increase at a more modest pace," David Berson, chief economist at Nationwide in Columbus, Ohio, told Reuters.
According to the report, the median price for a home in February was $357,300—a jump of 15% since last year at the same time.
First-time homebuyers who made up 29% of sales in February, a significant drop from the more typical 40% of sales, faced stiff competition from investors who accounted for 19% of sales. In today's volatile real estate market, bidding wars have become commonplace, and middle-income buyers are feeling the crush of higher home prices, more competition, and higher interest rates, but some experts think that demand won't drop in 2022.
"Our expectation is that home sales will remain relatively high throughout 2022, as homebuyers get creative about how to spend their housing budget amid rising prices of competing expenses like energy, food, and childcare, driven up by inflation," Danielle Hale, chief economist at Realtor.com told CNBC. "So far, buyer activity has been resilient to the extra costs of homeownership, but demand will be tested by an extraordinary year."
What the State of the Housing Market Means for Families
Experts agree that prices for existing homes aren't likely to drop much, if at all, this year. Coupled with booming inflation, more people will likely face financial insecurity and struggle to make ends meet. The Biden Administration is addressing affordable housing, but housing isn't the only financial constraint they face for many families.
"I think what parents really need to be focused on is the fact that our goal is to make sure that every person in this country has safe, decent, affordable housing," Housing and Urban Development Secretary Marcia Fudge told Fatherly. "And how we get to that point — we know it's going to take a while. We're not even going to try to pretend that this can be done overnight. But the one thing we are going to do is make the effort, to ensure that until we can get people where they need to be, we're going to deal with things like the cost of child care. We're going to deal with things like going to college by increasing Pell Grants. We're going to make sure we build support systems around communities of need."