Holy '80s Flashback! Michael Keaton Is (Really!) Playing Batman Again
Keaton is set to return as Bruce Wayne in a new movie about 'The Flash.' Don't be confused. This is good news.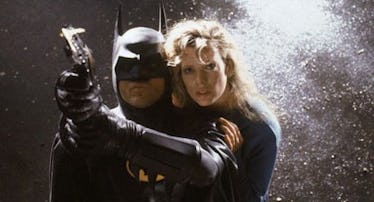 Sunset Boulevard/Corbis Historical/Getty Images
Have you ever danced with the Flash in the pale moonlight? Looks like in the very near future, a classic Batman actor will do just that. According to numerous reports (which seem slightly more legit than rumors) Michael Keaton really, really, really is going to return as Bruce Wayne/Batman in a big DC comics superhero movie. Maybe.
According to The Wrap, Keaton is in talks to play Bruce Wayne again, this time, in a movie called The Flash, which will, presumably, star incumbent big-screen Justice League Flash actor, Ezra Miller. Apparently, this movie will focus on the concept of the DC multiverse, which means the Flash will be running so darn fast that he'll end-up in parallel universes where all sorts of different people play Batman. This storyline is loosely based on the 2011 DC comics arc called "Flashpoint," which, introduced several parallels universe. That said, DC Comics did the multiverse thing in 1985 with the multipart Crisis On Infinite Earths, which was adapted for TV by the various CW superhero shows in 2019 and 2020.
But, none of this compares with bringing Michael Keaton back. In some ways, it's almost like the subject of the movie Birdman has come back to haunt Michael Keaton. In that film, Keaton played an actor haunted by the idea of having played a superhero called "Birdman," but then, a few years later Keaton was playing the villainous Vulture in Spider-Man: Homecoming, and now, it really looks like he's back playing Batman.
If all of this is true, it could give the wonky DC superhero movies a much-needed kick in the super-trunks. Keaton was the best of the post-60s Batmen for a reason. He was understated and funny. Serious and exciting. Subtle, without being Christian Bale. For most people reading this publication, he was our first big-screen Batman, even if he was also Mr. Mom.
Right now, let's hope this turns out to be true, and that somebody else is talking to Jack Nicholson to come back as the Joker, just in case.
This article was originally published on