There's a Christmas Light Shortage. Here's What to Do Now
Supply shortages are coming for our holidays.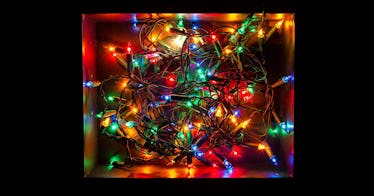 This past year has been challenging for parents. With the holiday season just around the corner — the first one in the United States where most family members will be vaccinated and can gather much more safely — many parents are looking forward to giving our kids some magic. That's why you're going to want to check if those holiday lights in the basement storage room are working — because there's a Christmas lights shortage.
If putting up lights is something you and your family does yearly, or you want to make sure you're able to do that this year, you're going to want to stock up early and check your supply.
Wait? There's a holiday light supply shortage?
According to Slate, holiday lights are the latest product that's experiencing a supply shortage. It won't be the only holiday shortage: kid's toys, particularly the big plastic kind, will be hard to find this year due to supply chain issues. And while you can prep your kids for a smaller Christmas — and lean on, say, stuffed toys rather than Legos and shop local — holiday lights are key to setting the Christmas mood.
The reason for the shortage isn't just one easy-fix thing. As Slate explains, "Americans are ordering an unprecedented amount of physical goods, partly due to stimulus checks and extended unemployment insurance, which is overwhelming transportation networks for imports."
While that sounds like a great thing, particularly for our economy that could use a boost, there's a bottleneck that's impacting supply chains for a whole slew of random things. "The country's shipping ports are clogged, an unprecedented number of boats are stuck in queues, and dockworkers and truck drivers are being pushed to their max," Slate reports.
OK, so what can I do about the holiday light shortage?
Experts have already warned parents that we need to start our holiday shopping earlier this year. As in, it would have been wise to start yesterday. And that's what they're saying about securing holiday lights, too.
Thankfully, parents can take a few steps now to better the chances of having holiday lights at all this year. The first step is to dig the lights you already have out of storage and make sure they work – or that your partner didn't throw them away when they were "spring cleaning" during the earlier parts of lockdowns.
If you found the lights but they're broken or not working, a DIY solution is likely going to be your best bet in bringing them back to life. Thankfully there are plenty of walk-through tutorials and videos that you can follow to MacGyver your way into workable lights, but be careful.
If you don't have lights already in storage or you didn't have the patience to try and untangle the ones you do have, start shopping now. There will be some lights on store shelves and online inventory, but it's going to be a free-for-all, first-come-first-served situation. And if your lights work, don't just buy new ones just because — make sure you spread the holiday cheer and let other families get their needed supplies.
If all else fails, we can give ourselves a 1900s-themed Christmas and use candles. But given the colossal fire hazard that played itself out with candle decorations, go with flameless because the last thing anyone needs after the past year is another crisis.
Happy decorating!