Johnson & Johnson Vaccine Paves Way for Infant Trials
Here's what this means for parents.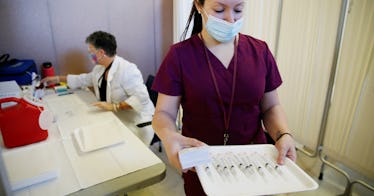 GETTY
On Sunday, February 28, the Centers for Disease Control signed off on the Johnson & Johnson COVID-19 vaccine, authorizing it for use on people over 18 in the United States. As a result, about 4 million doses of the vaccine will be shipped out by the end of the first week of March — with an overall estimate of 20 million more vaccines being administered country-wide by the end of the month.
This is huge news. The quickening inoculation of American people against COVID-19 is a bright spot in 2021 and given that the vaccine trials showed 100 percent effectiveness at preventing both death and hospitalizations due to COVID-19 and 72 percent effectiveness against moderate to severe illness in the United States, the vaccine's approval is great news.
To add to this, the Johnson & Johnson vaccine requires fewer logistical hurdles to make it into people's arms — paving the way for fast-tracked trials on children, newborns, infants, pregnant people, and people who are immunocompromised.
The Benefits And Drawbacks of the J&J Vaccine
At just 1 dose, 20 million doses coming out at the end of March means that 20 million people will be inoculated against COVID-19. The massive benefit of the Johnson & Johnson COVID-19 vaccine is that it's easier to store, ship, and administer.
Whereas the Pfizer vaccine needs to be stored between -112 and -76 degrees Fahrenheit, the J&J vaccine can be safely stored between 36 to 46 degrees Fahrenheit in pharmacy freezers, making it a super accessible vaccine in hard-to-reach populations. The single dosage is also, notably, a pretty huge deal.
While the vaccine is not as effective at preventing COVID-19 illness as the Pfizer and Moderna vaccines, it is still pretty effective, and as previously noted, 100 percent effective at preventing death and hospitalization — two factors that make the COVID-19 virus such a crush on the health care system of the United States.
One drawback is that the vaccine appears to be much less effective when used on people over 60, or those who have comorbidities or underlying health conditions. So it may very well be that the J&J vaccine is used on the final cohort of the vaccinated — young, healthy people without underlying conditions.
Here's What's Next: Trials In Pregnant Women, Infants, and Newborns
J&J will test the efficacy of the vaccine in infants, newborns, and pregnant women next as a part of the vaccine's emergency approval. They're not alone in testing the vaccine on kids — Pfizer and Moderna are working on testing the vaccine on kids 12 or older. Johnson and Johnson will start their tests on kids between 12 and 18, and then will go younger as the vaccine trials go on. After that, pregnant people and immunocompromised people will get tested.
The trials are an important step forward in reaching herd immunity for Americans. For parents who are concerned about their kids returning to school before getting a vaccine (although some have suggested children don't need to be vaccinated before opening schools safely), the vaccine trials should bring peace of mind to parents that their kids could soon be inoculated against the deadly virus. The more people that the vaccine is proven to be effective for, whether it be infants or 12-year-olds or pregnant 35-year-olds, the better.
This article was originally published on