What the J&J Vaccine Rollout Pause Being Lifted Actually Means
The J&J vaccine pause has been lifted. Here's whta to know.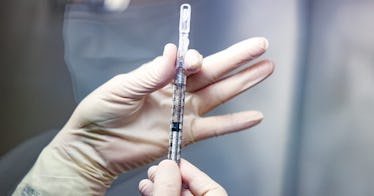 GETTY
Ten days after April 13th, when the FDA announced they would be pausing the roll-out of all single-dose Johnson & Johnson vaccines after 6 women between the ages of 18 and 48 out of 6.8 million people who had received the vaccine had experienced blood clots, the FDA removed the pause on the distribution of the life-saving vaccine jab.
As of April 23rd, the CDC and the FDA have now said that the vaccine should be distributed in the United States and that the vaccine is safe, and effective, in preventing COVID-19. Here's what you need to know about the pause — and the un-pause – of the vaccine.
Why Did The FDA Pause The Rollout?
The FDA paused the rollout after six women out of 6.8 million recipients of the J&J vaccine developed blood clots, one of whom died and another one who was hospitalized. "Right now, these adverse events appear to be extremely rare," the FDA said in a Twitter statement when they paused the rollout.
The federal government paused giving out the vaccine at all federal vaccination sites and expected. state officials to do the same. While the rollout was paused, the CDC and FDA looked over the data to see if there was a link between the vaccine and blood clots that are statistically relevant. Johnson & Johnson responded to the news saying: "We are aware that thromboembolic events including those with thrombocytopenia have been reported with COVID-19 vaccines… No clear causal relationship has been established between these rare events and the Janssen COVID vaccine."
What Are Concerns About Pausing the Rollout?
Many rightly feared that pausing the vaccine rollout will lead many people to believe that the Johnson & Johnson vaccine is unsafe. And at a time when the battle of vaccination is between rapidly rising COVID-19 variants and getting people vaccinated against said variants, any pause in rolling out inoculation could put people (and kids in particular) at risk of getting COVID-19 for longer.Dr. Anthony Fauci said
Is The Vaccine Safe and Effective?
On Friday, April 23Guardian,