Here's What Biden's Child Care Plan Would Do
More money to child care providers. Less money out of parents' pockets.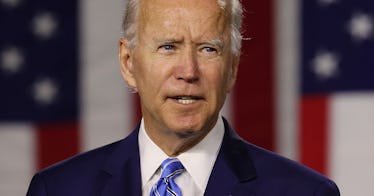 Getty
Assuming Joe Biden can keep his promises if elected president, he wants to give more money to child care providers, but take less money of out parents' pockets to make it happen. Right now, his plan sounds pretty freaking good. This week, the presumptive Democratic nominee for the campaign for the president of the United States, finally released a comprehensive plan for child care on Tuesday, July 21. The plan is a clear effort by the Biden campaign to help working parents deal with the rising costs of child care, the lack of access to child care, and to help the child care providers themselves survive. The latter point is particularly important; since the beginning of the pandemic, the childcare industry has been in free-fall, with no government bailout and with many child care centers closing their doors for good, unable to pay rent or survive on what were already razor-thin profit margins. Families have suffered as a result.
In the Medium post announcing the plan, the justification for the plan is simple: Biden's economic recovery plan is nothing without those who watch the children of American workers, and both the American worker, their kids, and child care providers all need to be supported by a system that works. "As a first step, Biden will immediately provide states, tribal and local governments with the financial relief they need to keep workers employed and keep vital public services running, including direct care and childcare services." The plan is a significant investment, but would also put 3 million Americans into work in care and education jobs and overall give about 5 million more people jobs who will be able to go to work because of affordable child care.
But what's in Biden's plan? Here's a breakdown of the information that matters the most to parents — and providers.
He Wants More —And In Theory —Better Childcare
Biden plans to expand both access to traditional and non-traditional child care settings for working parents and increase the quality of those settings. He plans to invest in child care standards by working in partnership with states to ensure that providers meet quality standards; that providers develop developmentally appropriate curriculum, have small class sizes, and provide the funding to help providers do so.
He also plans to provide incentives for providers to work non-traditional hours like the super early mornings, the evenings, and weekends, and to expand their centers into rural communities that don't have child care. He'll do so by offering bonus payments to providers and creating a fund that will provide grants to programs that fill these essential needs.
He wants to expand the Child Care Development Block Grant to allow kids up to age 13 in low-income families to benefit from the block grant program. Parents will be able to use the subsidies to cover after-school programs, weekend programs, and summer care costs, and he plans on expanding support for community schools. Since most colleges don't offer child care, and one in four community college students are a parent, he will provide funds for states to provide wraparound child care services at community colleges. He also plans to fully fund installation-based child care facilities on Military bases so that military spouses can have access to child care for their children.
He Wants To Pay Child Care Providers More and Pay More For Training
One major issue with the child care industry is how little child care providers are paid to care for children and educate them in what is considered by most developmental experts to be the most important years of a child's life from an education standpoint. Child care providers would get raises, would be provided more training and educational opportunities, get health care and get paid sick, family and medical leave benefits — something they currently go without. They'd also have the chance to join a union and be able to engage in collective bargaining and have access to fundamental work-rights and protections — making the child care force better paid, better educated, and better protected when it comes to taking care of kids.
He Wants To Make Child Care — In General —More Affordable For Most Parents
While Biden stops short of some of the suggestions that, say, former Presidential Candidate, Bernie Sanders made when he was still on the trail, his plan would significantly lower costs for the vast majority of American families in two major ways.
One way that American families could receive lower cost child care is by offering an up-to $8,000 tax credit for low to middle-income American families to receive child care. This would be eligible per child for any child under 13, meaning that families with two kids or more could get $16,000 in child care tax credit. It would be a refundable child care tax credit, and Biden says he would explore ways to make the payment advanced so that families who struggle to afford child care won't have to wait until January to get paid. A 50% reimbursement for child care would be available to families that make less than $125,000 a year and for families making more than that, they'd receive a partial credit.
The other way is by ensuring that no parent who makes below 1.5 times the median income in their state would pay no more than 7% of their income on child care by providing a sliding scale subsidy based on the Child Care for Working Families Act. Under this option, a family would pay no more than $45 a week on child care.
The plan includes universal free pre-kindergarten for all kids aged 3 and 4.