Here's How Your Kid Can Give Santa a Call Before Christmas
Who needs letters when you have Google?
by Amanda Tarlton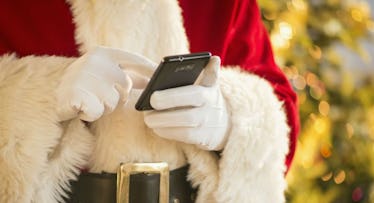 Getty
If you have a Google Assistant and a kid who still believes, all they have to day is say "Hey Google, call Santa" to have a "conversation" with Mr. Claus this Christmas. The feature, added by Google last year, lets kids talk to Santa and a quirky elf named Gumdrop while you listen to holiday tunes.
After giving the voice command, your kid's call will be answered by Gumdrop, who will put you on hold because Santa, busy man that he is at this time of year, is busy recording a new song in the studio. Once you're connected to Mr. Claus, he'll ask you a series of fun questions to help him plan his annual Christmas concert, aptly named Elfstock. Your answers will determine which song the elf band will play for you at the end of the call.
The feature is enabled on all Smart Speakers and Smart Displays, as long as your kids are set up as voice-matched users of the devices in your home. In addition to being able to call Santa Claus, they can also view the lyrics to popular Christmas songs or have the Google Assistant read them a holiday-themed story, like the popular "Mickey's Christmas Carol."
It's just the latest in a long list of Santa-related technology that's bringing Mr. Claus into the 21st century. Amazon's smart speaker, Alexa, for instance, has a North Pole-phoning feature similar to that of Google's that's activated by saying, "Alexa, call Santa."
For a more visual experience, check out the trackers that let kids follow his journey around the world on Christmas Eve.
This article was originally published on