Here's How Nickelodeon and Other Kids' Media Supported Black Lives Matter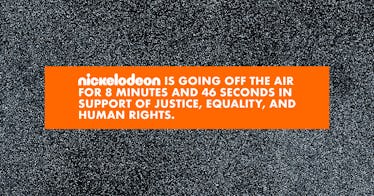 Yesterday marked #blackoutTuesday, a social media effort in which media brands, musicians, and other businesses went dark on social media in order to elevate the voices of protesters and organizers in the midst of the protests erupting across the country for George Floyd and for black lives. Brands handled this several different ways, and some of the efforts were misguided, or criticized by organizers. Still, an effort was made. Some put a lock photo on their Instagram grid to mark the day, others released statements about their support for the movement on social media channels, and others, like Nickelodeon, went straight to the airwaves.
In a show of solidarity with the movement and acknowledging the death of George Floyd, Nickelodeon went off air for eight minutes and 46 seconds yesterday. The timing is significant as that's the length of time Derek Chauvin kneeled on George Floyd's neck and back, ultimately killing him and continuing to restrain him with the unnecessary use of force for minutes after his death.
The video, titled, "I Can't Breathe," featured someone breathing in and out for the entire eight minutes and 46 seconds, and ends with a call to join an organization, Color of Change, a nonprofit civil rights organization that was formed in the aftermath of 2005's Hurricane Katrina, a storm that disproportionately affected black Louisianians. Nickelodeon also published a "declaration of kids' rights," with a few tenets such as "You have the right to be protected from harm, injustice, and hatred," and "You have the right to a world that is peaceful."
MTV also aired the video. Other brands took part in the blackout, including Paw Patrol, the kids' show about dog cops, also muted their account for the day.
Sesame Street, as well, obviously took a stand on the issue, stating that they are a show built on the values of diversity, inclusion, and kindness. They're also working on producing a Town Hall on racism — similar to their town halls on COVID-19 — to explain what's happening currently to kids across the country.
This article was originally published on