Here's Exactly When 'The Walking Dead' Will Die (and Return?)
This show is just never going to go away.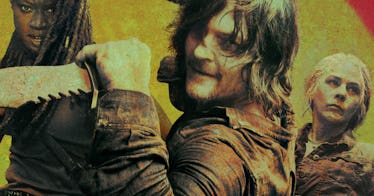 AMC
The zombie-hit TV show that has been on television for more than a decade, The Walking Dead, is finally coming to an end after it's 11th season, per recent reports. The final season, which will have 24 episodes, about eight more than a typical season of the super-hit, super-gory show, will be the last time we get to see many of the famous characters that have made the show about killing zombies and surviving also one about humans and their foibles. But that doesn't mean that it's a final goodbye to everyone on the show. Indeed, there are a number of spinoffs that are in the works for the show — one of which will focus entirely on Daryl Dixon (Norman Reedus) and Carol Peletier (Melissa McBride.)
And other off-shoots, like a Rick Grimes trilogy of movies, Fear the Walking Dead, The Walking Dead: World Beyond, and Tales of the Walking Dead, an anthology series, are all still in the works. So while the original show might be making its final curtain call, there's still more characters and more storylines for super-fans to be able to dive into. The Daryl and Carol spinoff should come in 2023. Fear the Walking Dead launches on October 11th, and The Walking Dead: World Beyond, a two-season YA feature, will debut on October 4th, alongside the "fauxnale" of Season 10. If you're not doing anything that night, you might as well just park it on AMC for a few hours and dive into a world of zombies if that's your kind of thing. So, while it might finally feel like the end for a show that has lasted as long as some of our children have been alive, it's not actually the end. It's like zombies never die, or something.
As for Carol Peletier — otherwise known as Melissa McBride — she seems pumped for the spinoff. "I've long been intrigued with Daryl and Carol," she said. "Their shared history is long, and each's own personal fight to survive, even longer — the more obvious aspect of what has kept them close and loyal. But there's also a rather mysterious aspect to their fondness for one another that I enjoy, and their playfulness when the world permits."
Hopefully the show holds up. But even if it doesn't, there are literally a million other Walking Dead spinoffs and offshoots that can take its place.