Dad Helps 'Heavy Metal Baby' Go Viral In Hilarious TikTok Series
Her: I have no idea what's going on, but OK.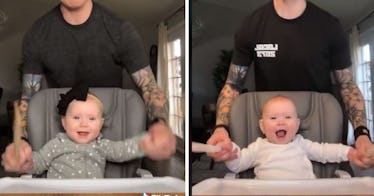 TikTok / heavymetalbaby
Look out; there's a new heavy metal star getting ready to take over. As parents, we like to encourage our kids to participate in the activities and hobbies we love. Whether that's sports, the arts, or music, it's fun to see our kids enjoy the same things we're passionate about. And it's a great bonding experience, too – just ask this dad and his adorable little girl.
A baby has gone viral on TikTok with her dad and mom's help – and her impressive heavy metal drumming skills. The little girl named Liz is racking up the views on the platform under her alter-ego, Heavy Metal Baby.
With her dad's help, Heavy Metal Baby drums along to classic songs from some of the biggest groups out there. She's mastered the drums for "Down With the Sickness" by Disturbed, "Dragula" by Rob Zombie, "Walk" by Pantera, and more.
There has been a whole series of videos posted to the young star's TikTok account. Liz is always accompanied by her dad, who's helping her out in the drum department. The videos are filmed by mom, and it's so clear that little Liz is obsessed.
And, as viewers, it's impossible to not smile along as Heavy Metal Baby does her thing. She's not even phased when dad puts on a Corey Taylor mask.
The TikTok series has racked up over a million views since her first video was shared on Jan. 26, 2021. She's also close to a milestone of 100 thousand followers. And the comments on her videos are filled with support and props to the parents who are raising her right.
This little one is destined for musical greatness.
This article was originally published on