New 'He-Man' Cartoon Isn't a Reboot; Will Finish "Unresolved" Stories from the '80s
This is basically a sequel to your childhood.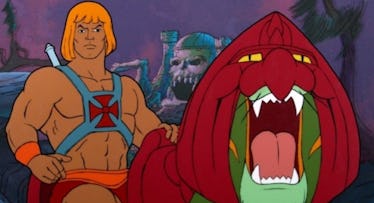 Imagine a cartoon you loved going off the air. Easy, right? I happened all the time in the '80s and '90s. Now imagine that cartoon is back on the air, and it's just picking up where the last episode left off, with all-new episodes. Does that sound nuts? Well, it's not. A new version of He-Man and the Masters of the Universe is coming and it's literally just a sequel to the old show. Showrunner Kevin Smith (yeah that Kevin Smith) promises the new He-Man is actually just more of the old He-Man.
This weekend at Power-Con in Anaheim, it was officially announced that Kevin Smith would be the showrunner for a new He-Man cartoon titled Masters of the Universe: Revelation. The series will air on Netflix but while you may be thinking the new series will be a reboot of the classic cartoon, Smith says that Revelation will actually focus on "unresolved storylines of the classic '80s era."
"There's no reason to break this in order to present it to people, it's wonderful the way it is," Smith said during an interview with Pixel Dan. "For us, when we went into it, it was like 'All right, let's just keep the classic era going.'"This puts the new He-Man in clear contrast with She-Ra, as the princess warrior received a complete reboot last year which left nostalgia behind in favor of a bold new direction for the character. She-Ra and the Princess of Power has received critical acclaim and quickly became a favorite with kids. But with Smith on board, it looks like He-Man will take a different approach and instead embrace the nostalgia of the original series, perhaps hoping to attract an older audience instead of kids.Will modern audiences respond to a cartoon picking up where it left off three decades after it originally aired? It's hard to say and will most likely come down to the very obvious question of whether or not Revelation is good or bad. Either way, we are excited to see the badass warrior back in action.There is no release date set for Masters of the Universe: Revelation, yet.