Hawaii's Kilauea Volcano Eruption: Here's How To Watch
Here's how to stay safe while being enthralled by nature's power.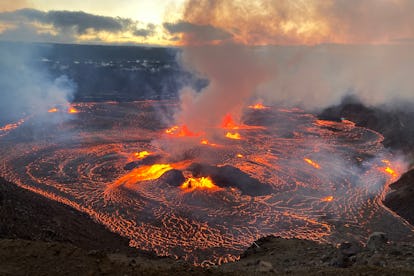 U.S. Geological Survey (USGS)
Hawaii's Mount Kilauea began erupting again just before the local sunrise on June 7, less than a year after a recent months-long eruption in October 2022. In the very early hours of the morning, lava shot up in bursts like a fountain from within Halemaʻumaʻu crater at Hawai'i Volcanoes National Park, according to news reports. Here's what you need to know.
Mount Kilauea is one of the two most active volcanos in the world, according to the U.S. Geological Survey (USGS). Currently, the eruption is confined to the crater, which isn't accessible to the public.
What is the current danger level?
The Hawaii Emergency Management Agency says the danger alert level was raised from an orange watch to a red warning.
"At this time, there is NO indication that populated areas are threatened," the Hawaii Emergency Management Agency said on Twitter.
What should you know if you live in Hawaii?
Officials say that the eruption isn't an immediate threat to the population that lives in and around the volcano. The lava — which has reached up to 200 feet high — is currently confined to the Halemaʻumaʻu crater.
The crater is in an area of the Hawaii Volcanoes National Park that has been closed to the public since 2007, per CNN. However, the biggest concern for people in the area isn't the lava itself but the volcanic gas.
"Large amounts of volcanic gas — primarily water vapor (H2O), carbon dioxide (CO2), and sulfur dioxide (SO2) — are continuously released during eruptions of Kilauea volcano," the USGS said in its statement.
Park officials are asking residents and visitors to keep an eye out for any official statements should conditions near the volcano change.
How to watch the Kilauea volcano safely from afar
The Hawaii Volcanoes National Park expects the eruption to bring in visitors, both those who live in Hawaii and people traveling, to get a glimpse of the eruption.
"A magnificent new eruption that started before sunrise within Kilauea volcano's summit is expected to draw thousands of visitors to Hawaii Volcanoes National Park," the agency shared in a statement.
Although visitors can't get close to Halemaʻumaʻu Crater, they can get as close as half a mile away from the Overlook near Keanakākoʻi Crater. To get to Kilauea National Park, visitors can book a flight to Kona International and follow the National Park instructions to plan a visit.
How to stream the Kilauea volcano eruption virtually
For anyone who isn't able to visit or prefers to keep their distance, there are several webcams set up in different areas of Kilauea, showing the current conditions of the volcano.
The USGS has 14 cameras set up, all streaming 24 hours a day, 7 days a week.