Map Shows The Best And Worst States To Have A Baby in 2021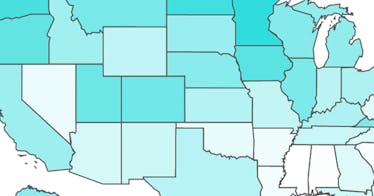 WalletHub
Having a baby is a really exciting time in life — and an expensive one. Babies are really expensive between the health care costs, finding a great pediatrician and OBGYN, the costs of giving birth, eventual child care, and baby products we need for safety or to make our lives easier can all add up. Now, a new study has calculated those factors and determined the best and worst states to have a baby. Here's what you need to know.
According to WalletHub, and every parent ever, having and raising a baby is expensive. "The average conventional delivery in the U.S. costs around $4,500 with insurance, and without insurance, it could cost over $10,000," the finance site reports.
While all that's true (and even an understatement for many new parents), the silver lining is that some states are more affordable than others when it comes to having a baby.
"Expenses can vary significantly, considering the wide disparities in cost of living," the site continued. "They can also differ from one pregnancy to another, given that some women experience delivery complications. But there's more to think about than just cost. Some states provide better quality health care service and better environments in which to care for children."
To determine the best and worst states to have a baby, WalletHub looked at all 50 states and the District of Columbia and compared them against 31 critical measures, including family and baby friendliness, health care accessibility, and cost. The key measures included Cesarean-delivery charges, health-insurance premiums, cost of babysitter/nanny, infant mortality rate, and more.
"Our data set ranges from hospital conventional-delivery charges to annual average infant-care costs to pediatricians per capita," the site shared.
The Five Worst States to Have a Baby:
The Five Best States to Have a Baby:
Source: WalletHub