You Can Buy Harry Potter Elf on the Shelf Stuff Because of Course You Can
Not a house elf, but still, clothes for elves are involved.
by Amanda Tarlton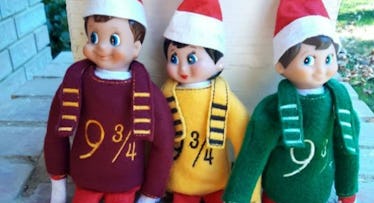 Etsy
For parents who are already bored with their Elf on a Shelf, one Etsy shop owner has created Harry Potter-themed outfits for the dolls. Things and Crafts is selling tiny sweaters with matching scarves inspired by J.K. Rowling's Wizarding World.
"This is an embroidered fleece sweater for your favorite elf," writes the shop owner in the item description. "It will keep him/her warm on those cold nights before Santa comes." Each of the sets, which come in four different colors, costs $12 and includes a homemade fleece sweater and scarf. To be clear, these are sweaters and scarves for existing Elf on the Shelf elves, not entirely new elves that look like Harry Potter characters. It is unclear if an Elf on the Shelf will become liberated if you give it new clothes, just like the enslaved house elves in the Harry Potter books, but we digress.
The sweaters are also embroidered with "9 3/4," the London train platform that Harry famously takes to get to Hogwarts. There a choice of colors, too: red, blue, green and yellow, presumably echoing the four house colors of Hogwarts. So, if you want an all-Slytherin Christmas, you just need to order all green sweaters.
Noting that the sets are ready to ship within 3 to 5 business days (shipping is free!) and that there are no returns or exchanges, the shop owner adds that customers can personalize their sweaters with the name of the elf or the name of the child, too. She asks that parents include the requested name in the order comments.
Harry Potter sweaters aren't the only elf clothes that Things and Crafts sell, either. Parents can also snag a Grinch-themed sweater, snowman sweater or police uniform for their Elf on a Shelf to give every kid's favorite holiday doll a mini makeover.
This article was originally published on